The Gay Side of Sofia
Since Bulgaria joined the European Union in 2007, it has had to comply with EU human rights standards such as the ban on all forms of negative discrimination, including on the basis of sexual orientation. In fact, since 2003, when the country began negotiations with the EU, it has made tremendous efforts to align its legislation regarding sexual minorities to the European norms and standards. However, non-discrimination is still a far cry from equal rights, and at the moment there are no provisions in Bulgarian law regarding civil unions or marriage for homosexual couples, and co-habiting partners cannot adopt children, nor do they have hospital visitation or inheritance rights. However, gay unions are now recognised in some Eastern European countries, such as Hungary, so it may only be a matter of time before Bulgaria catches up.
While other cities in Central and Eastern Europe have been holding tolerance or equality parades in the past few years, Sofia's first official gay parade in 2008 was marred by violence from extremists. However this year, 400 people marched peacefully through the city centre, a sign which hopefully shows that Bulgaria is becoming more accepting of gays and lesbians. For more information about this year's march Click here
Gay visitors to Bulgaria, and especially Sofia, will find it a tolerant place, and actually much more open to homosexuality than many Eastern European countries. There are more than a handful of popular gay bars and clubs in the city, and homosexual couples can generally walk around the centre of the city safe from harassment. Be aware that places on the scene can come and go quicker than a drag queen's one-liners. So don't be too surprised, after you've been lured half-way across town by some enticing sounding joint, that it's morphed into a mini-mart. Be aware as well that some places may be hang outs for male hustlers - which may or may not suit your tastes. To help you get the most out of your trip we've put together a list gay, lesbian and gay-friendly bars and clubs below, open as of July 2009.
We have also compiled a list of websites of GLBT organizations and different portals where Sofia's homosexual community communicates on the web, and are good starting points for meeting people before coming to Sofia. The main organization for advancing GLBT rights in Bulgaria is the Bulgarian Gay Organization Gemini, which was started in 1992 by a gay couple, but several other gay organizations and portals exist for Bulgaria.
So if you're a gay visitor to Bulgaria, we welcome you, and hope you'll only experience the positive side of life in Sofia.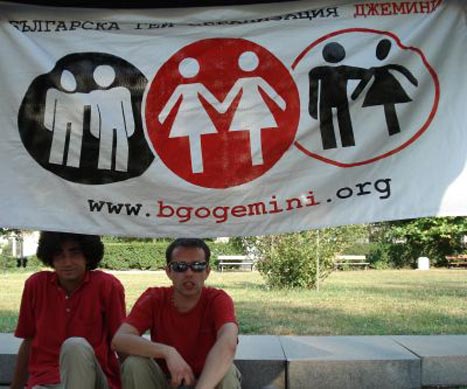 Above: BGO Gemini, the largest gay rights organization in Bulgaria

Sofia's gay and gay-friendly venues:
Bars and Clubs

Exit Club:
16 Lavele
Tel: 359 887 965026
email: alexbesedin@abv.bg
A coffee shop by day and laid-back club by night, Exit Club is a very popular club, perfect for pre-partying. However, we've had reports of foreigners being overcharged in Exit, so check your change.
Adonis Bar:(opposite the headquarters of Bulgarian Socialist Party)
122 Knyiaz Boris St.
Adonis is one of the oldest gay bars in the Balkans, and recently re-opened after a brief closure. The small bar is a bit hard to find, as you have to ring a bell next to a black door, and follow the stairs down to the small basement club.
In Da Club:
33 Tsar Samuil St.
This gay club has three levels, massive dance floors, and is open 24 hours a day so the party never stops. A roof terrace, open in the summer, is another attraction.
ID Club - NEW LISTING
18 Vitosha Blvd
Tel:0898 200 000
Wesbite: Click here
Currently the place to be seen on Sofia's burgeoning gay scene, this popular party hangout has different themed nights including Chalga singers, cabaret, and retro gigs. With three bars, lots of dance space, chill-out areas, plasma screens and, if that's not enough, darkrooms as well to keep you amused. Check out ID's website for info on current happenings. ID is only open Tuesday to Saturday 9pm-5am.
Why Not:
31 Stamboliysky Blvd.
Tel: 986 66 30
A private gay club, it's a bit hard to find and you have to ring the doorbell of an iron door to get in. However, once inside it's a crowded dance club on Friday and Saturday nights, with occasional shows.
Essense:
29 Alexander Stamboliysky Blvd(opposite KFC)
Tel:359 89 9998666
A lesbian bar open Wednesday through Saturday.
Lips - NEW LISTING
12 Bratya Miladinovi Street (corner with Alexander Stamboliyski Blvd)
Tel: 359 87 8804138
Email: boriana_nu@abv.bg
Elegant new bar in the heart of Sofia, Lips offers top-notch service and is a great place to unwind in. Lips is only open Wednesday to Saturday from 8pm.
Soho - NEW LISTING
32 Todor Aleksandrov Blvd
Tel: 089 4661607
Email: mixclubsoho@yahoo.com
New kid on the block, Soho offers all the usual attractions for a fun and friendly pink night out. Open Tuesday to Sunday from 7pm to 4am.
Club Chillout - NEW LISTING
1000 Sofia, 5 Triaditsa street (behind the Council of Ministers)
Tel: 359 2 980 02 03, +359 888 241164 (mobile)
Website: Click here
Think Ceaser's Palace - think Club Chillout. About as OTT as you can get, this place has more bling than an Essex girl on her wedding day. Big, beautiful spaces are lavishly laid out with trendy, pure white sofas, plenty of disco lights, and big mirrors so you can keep watch on whoever catches your eye. Attracts both a gay and straight crowd.
To get to Club Chillout take tram 1,7,18, 20, 22 to these stops - Banya Bashi Mosque stop, Halite stop, Central Bath House stop
Accommodation and Tours
Scottys Hotel:
Ekzarh Iosif St.
+36 (309) 323334
The first gay hotel in Sofia, Scotty's is located in a renovated and restored historical building in the very centre of the city and offers a variety of rooms. The staff is exclusively gay and ready to point out the best spots in town.
GayGuide.Net Tours
sofia.gayguide.net/Gay_Guide/Guided_Tours/
Sofia's gay guide provides a variety of gay-tailored tours around Sofia and throughout Bulgaria.
Entertainment & Services
VIP Massage Studio - NEW LISTING
Man on man massages with a happy start, a happy middle & a very happy ending. Massage therapy performed by a team of young male masseurs who graduated from the National Sports Academy - this sure is a steamy way to be relaxed and gay in Sofia.
Check out their Facebook

Bulgarian GLBT Organizations and Websites:
BGO Gemini: www.bgogemini.org
European Region of the International Lesbian and Gay Association (ILGA): www.ilga-europe.org
Bulgaria's gay portal: www.gay.bg
Bulgarian gay portal for men: www.bgmen.com
Dolphin Gay Club for Naturism and Sport: www.momcheto.com
Tangra Gay Sports Club: www.tangra-bulgaria.org
Gay News Bulgarian Portal: www.gaynewsbg.com
GayGuide Sofia: www.sofia.gayguide.net - A guide specially catering to the gay or lesbian traveller. Also available for Warsaw, Cracow, Prague, and Budapest.
If you know of other particularly gay-friendly places in Sofia, please let us know; and feel free to post your comments about gay Sofia on this page below. We encourage different viewpoints and want to hear your thoughts about the gay cause in Sofia (though we won't tolerate abusive or hateful comments). We've included a few Sofia-specific GLBT websites above, though many are only in Bulgarian. We hope they'll be a helpful resource; if you know of any other helpful websites, let us know as well!
Comments