London Parks
For all its big city hustle and bustle, London certainly isn't lacking in lush green spaces, from the famed Hyde Park to the wild expanse of Hampstead Heath. Visitors and locals alike love to explore the paths, gardens, and ponds of London's parks, and with eight Royal parks within the city, there are often some fascinating historic attractions about as well.
Nearly every London park has its own charm, with special activities and attractions for every mood and personality from chilling on the deckchairs of St. James' Park to wandering through the flowers of Kew Gardens. Here are just a few of London's most essential green spaces…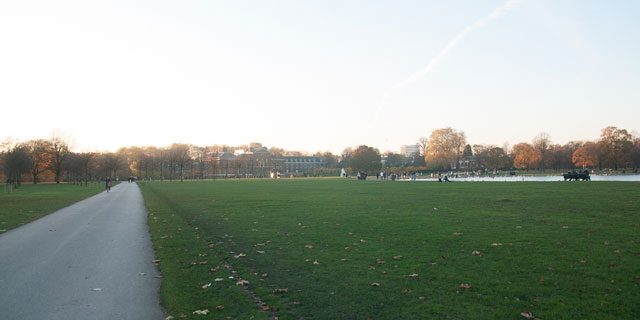 Hyde Park
Arguably the most famous of London's parks, Hyde Park is home to the Serpentine Lake, Kensington Palace and Gardens (currently the home of Prince William and Kate Middleton), Serpentine Gallery, Speakers' Corner and the Diana, Princess of Wales Memorial Fountain. Hyde Park has long hosted some of the city's most high profile outdoor music festivals, but many, including Wireless and Hard Rock Calling, have recently moved to the grounds of the newly built Olympic Park.
St. James's Park
As London's oldest royal park, there's a palpable sense of history and tradition at St. James's. For over 400 years, St. James's Park has seen some of the country's most important ceremonies, including the annual Trooping of the Colour celebrating the Queen's official birthday. Surrounding the park are many of England's most important landmarks, including the Horse Guards, St. James's Palace, The Mall, and of course, Buckingham Palace. St. James's is also a tranquil place to unwind on a deck chair or enjoy some of the park's more unusual attractions – including a handful of resident pelicans!
Hampstead Heath
London's rugged Hampstead Heath is a beloved oasis for city dwellers, and indeed it's difficult to imagine life in the city without the Heath's 790 acres of near-wilderness to escape to. Popular with joggers and dog walkers, the Heath's rambling paths lead through fields, past ponds (many of which are open for swimming), and through ancient woodlands. Deer, foxes, and rabbits are just some of the wildlife you'll find here. A more refined addition to the Heath is Kenwood House and Estate, a beautiful 18th century stately home and gardens open for visitors. In the park's south-eastern corner is Parliament Hill, which boasts views of Westminster Palace and St. Paul's so spectacular that they have been protected by law.
Kew Gardens
Officially known as the Royal Botanic Gardens, Kew, this UNESCO World Heritage Site is a wonderland for horticulture nuts, attracting nearly two million visitors to the park per year. A walk through the stunning gardens is reason enough to visit, but galleries, glasshouses, a museum, a royal palace (Kew Palace), and even a pagoda can also be found within the grounds of Kew. The treetop walkway is a recent addition that has been drawing crowds as well, allowing visitors to walk 18 metres above the ground though the canopy of a woodland glade. Behind the scenes, Kew Gardens is an internationally renowned scientific institution studying plants and promoting conservation.
Comments