Highgate Cemetery
London's most famous destination for the deceased, Highgate is the final resting place of hundreds of famous figures, and some 170 000 regular folks. The entire area of Highgate Cemetery, which is divided by Swain Lane into East and West cemeteries, covers 37 acres of land in North London.
The Western section of Highgate is the oldest, dating back to 1839 when a severe overcrowding in parish burial grounds in London led to its opening. Six other modern cemeteries were opened as well, and together they are known as the Magnificent Seven. Fifteen years later, Highgate was expanded and the section east of Swain Lane was acquired.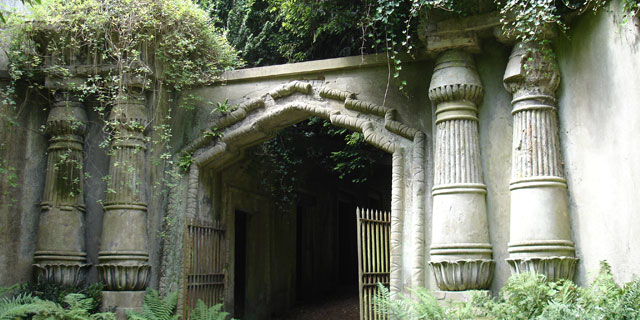 Filled with gothic sculptures, intricate tombs and lush, wild greenery, Victorian-era Highgate proved both a fashionable burial place and a popular destination for daytime walks.
These days only in the Eastern cemetery are visitors free to wander without a guide, as years of neglect and vandalism have left the Western section in a rather delicate state. Perhaps unsurprisingly, the graveyard's gothic nature has always attracted fans of the mystical and supernatural. Even parts of Bram Stoker's Dracula took place in a fictionalized Highgate.
Highgate's associations with the occult reached fever pitch in 1970 when Londoners swarmed to the cemetery to participate in a mass vampire hunt for the "Highgate vampire", who had been reportedly sighted on multiple occasions.
Aside from modern vampire myths, Highgate remains an obligatory stop for visitors to the city, many of whom are interested in visiting the graves of the cemetery's most famous residents. The most popular grave, by far, is that of Karl Marx, who lived in London for the last part of his life. The resting place of Karl Marx is located on the Eastern side of Highgate, where novelist George Eliot is also buried.
While visitors are free to wander the Eastern cemetery, those who wish to see the older Western cemetery, must do so as part of a tour. Tours can be booked in advance, and weekend tours are available on a first come first served basis.
Amongst the maze of Victorian tombs and mausoleums of Western Highgate are several magnificent sights, including the Egyptian Avenue and the Circle of Lebanon, a circle of stone catacombs above which grows a huge Cedar of Lebanon.
Both sections of Highgate are open daily throughout the year and close at around 4pm. Admission is paid for entry to either part of the cemetery. Children under 8 are not allowed entry. Stop by the official Highgate website for details on booking weekday tours for the Western cemetery in advance.
The best way to reach Highgate is via the Archway tube station on the Northern Line (towards High Barnet). Jump on bus number 210 or 270 towards Brent Cross for two stops, getting off at Waterlow Park Lauderdale House. The cemetery is a 5 minute walk away through Waterlow Park, or simply take the 15 minute walk directly from Archway station to the gates of Highgate Cemetery.
Comments