The South Pier
One of Gdynia's main roads, ul. 10 Lutego, heads from the train station to the Baltic. Head on down 10 Lutego, then continue past the Kosciuszko square and you'll find yourself on Gdynia's Southern Pier. Admire the Polish Navy's ORP Blyskawica (The Lightning) on your left before walking past a seemingly endless row of souvenier shops and fish stands. If you find yourself on the pier at the right time, you might be fourtunate enough to see some spectacular vessels coming to dock. Old wooden beasts slowly crawl into port, while expensive and extensive yachts glide by. Gdynia's maritime academy has old training vessels nearby and you can often see some young scholars of the sea learning the ropes before setting off on a voyage of their own.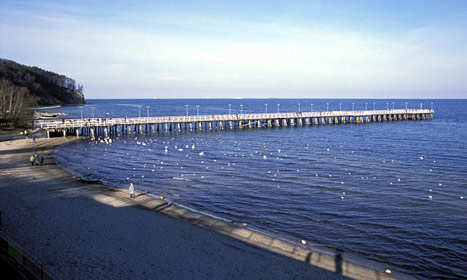 At the end of the pier you'll find Gdynia's aquarium, the watery home to some interesting species of fish and other marine life. Starfish, octopus, and even some smaller sharks swim about for your educational pleasure! If you have smaller children, then this aquarium is a must. Most of the exhibits are only in Polish, so check their website before visiting so that you don't have to make up stories to satisfy your child's overactive sense of curiosity!
Finally, at the end of the pier, one of the greatest writers of all time is honored with a unique statue. Joseph Conrad Korzeniowski, known best for 'The Heart of Darkness' and 'Lord Jim,' used his experiences as a sailor in many of his novels. The statue, which depicts a proud, stern Conrad popping out of an unfurled sail, is a little bit odd, mostly because it faces the land, rather than the sea. If you follow Conrad's line of vision, he just seems to be looking at the beach. Perhaps he longs for a snack from an ice cream vendor or maybe he was just tired of looking out at the water. Only he really knows.
The South Pier provides the visitor with a whole day's worth of fun. In between adventures, there are a plenty of places to sit and just enjoy the sight of the ocean while sipping on a soda or tasting a fine Polish Beer. Bring a copy of 'The Secret Sharer' and impress both Mr. Conrad and your high school English teacher!
Comments