Shops and shopping...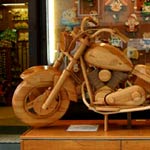 Let's be honest, the Seven Deadly Sins are given a fairly solid showing in Vienna. The Viennese do vanity, gluttony and sloth in splendidly artistic style. No one's going to give you a complex about lounging around in cake-shops or dressing up like Willy Wonka. And whilst it's true that it might be a bit much if every city in the world was like this, variety is the spice of life dear Watson, and Vienna's detachment from reality is a plus point if you're here on holiday. So if you've been saving up for a trip to Vienna, here are a few tips on finding some local gems.
See on Map
Looking for something specific?
Top rated shopping in Vienna