World Ski Jumping Cup
Is it a bird? Is it a plane....? No - it's The Flying Moustache, Adam Malysz!
Well, you probably think we've gone completely crackers. Actually, we don't deny that we're one or two pennies short of a pound, or groszy short of a zloty. But if you want to see something truly crackers, zip on down to Zakopane and check out the reception that Mr. Malysz gets when he takes to the skies.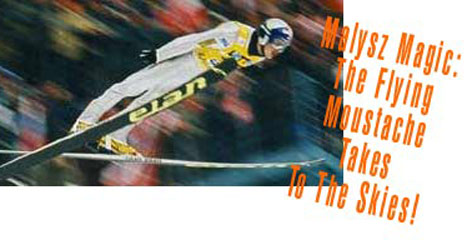 That's right, the World Ski Jumping Cup is returning to Zakopane for another year, and the Flying Moustache, also dubbed the Polish Batman, is Poland's brightest hope once again.
Adam Malysz, pronounced Mau -ish (no relation to the Chairman) is an unlikely looking hero. A small, undeniably skinny fellow, you'd worry about him if he ever entered the boxing ring. But give the lad a pair of sturdy skis and abracadabra, he's on fire.
28 year old Malysz hit the big time in 2001 when he won 11 World Cup events in one season. Since then he's scooped more trophies than an Oscar blockbuster, picking up both World Championships titles in 2003, a year in which he added a third world cup to his collection. A loss of form and a major fall on the slopes had some predicting the end for the Flying Moustache. But doom-mongers were proved wrong, and in 2005, the mighty Malysz returned with a string of successes, not least in his native Zakopane.Then, in 2007, he hit the jackpot, winnning the World Cup, and becoming the most titled ski-jumper in the history of the event.
When the World Ski-Jumping Cup hits Zakopane (see our events page for more info) all eyes will be on Poland's No.1. And whilst temperatures may be deep into the minuses, we guarantee that the atmosphere will be more akin to a Caribbean carnival. The Poles really throw themselves into the spirit of things, and they'll be revving up their champ with all the energy that they can muster.
Regardless of who wins the day, the event is always bags of fun, and the whole town of Zakopane will start to rock. Hearty toasting will last late into both nights, and you can expect plenty of entertaining escapades in town.
Of course, the question everyone's asking is can Mr Malysz weave his magic once again.....? That would certainly be the icing on the cake, but either way, the cup's sure to be a belter. We'll see you there!
Comments