Niedzica Castle
The prospect of Niedzica castle, which is best enjoyed from the ruins of Czorsztyn on the other side of the lake, is amongst the most picturesque in the country, and it adorns the cover of many books. Before the reservoir was built, the castle had a very Bram Stoker-like setting, when it was perched high on a cliff above the Dunajec river. Some of the former residents also belong to the world of the gothic novel, and this is a place that is rich in tales and legends.
For centuries the castle was a border-post with Hungary. Yet when the Turkish menace reached its peak five hundred years ago, a deal was done at Niedzica that made this region a Polish protectorate. However, the owners of the castle remained Hungarian right up until the middle of the Second World War. The coming of the Soviets then provided the final nail in the coffin for the family, and the last countess left with her children in 1943, two years before the Red Army marched in.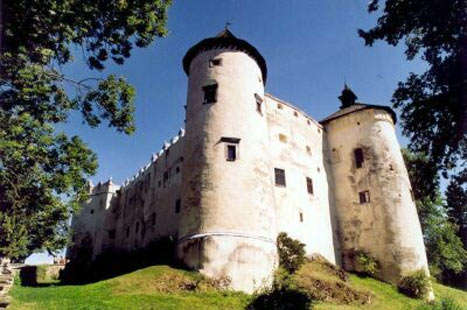 The castle has been well looked after in recent years. In 1949 it came under the supervision of the Ministry of Culture, and since 1963 it has functioned as a museum. The furnishings are not entirely as they were in the 1930's, but the castle remains a great place to visit. The views are magnificent, particularly to the south over the Pieniny mountains. There is also a beautiful courtyard, above which it is possible to take guestrooms. For many years, an old moustachioed gentleman, resplendent in his Spisz costume, charmed visitors with the legends of the castle - he still remembers the last owners.
The legends are indeed rather fantastic. Most famous is the tale of the lost Montezuma treasure. During the 16th century, a relative of one of Niedzica's owners travelled to the New World, and became embroiled in the the troubles of the conquistadores. He fell in love with the daughter of the last Inca king, Tupac Amar II, who was himself murdered by the Spaniards, after rebelling against the invaders. However, the sacred scrolls of the Incas had been handed down to the princess, who then fled to Hungary with her new husband. The notion that Inca treasure lies hidden somewhere in the depths of the castle, is still cherished today.
Other tales follow the exploits of some of the castle's former owners, a somewhat motley crew. These involve counts and jesters who tortured village folk, stabbed priests and generally behaved in an unsavoury manner.
Returning to the distinctly less grisly world of modern day Niedzica, its worth bearing in mind that there is a pleasant restaurant just below the castle, which is a fine place for a break. Over the road, an eighteenth century wooden barn houses a charming little museum of Spisz folk culture.
Comments