Chocholow
The village of Chocholow lies seventeen kilometres east of Zakopane, and it represents the most complete survival of an old gorale village. The majority of the houses here were built during the nineteenth century, and it was from buildings such as these that Witkiewicz took his inspiration for the 'Zakopane Style'.
Chocholow is based around one main street, and its wooden houses mirror each other on either side. Virtually every building echoes the next, the curious anomaly being the stone gothic church, (the old wooden one was replaced in the mid-nineteenth century).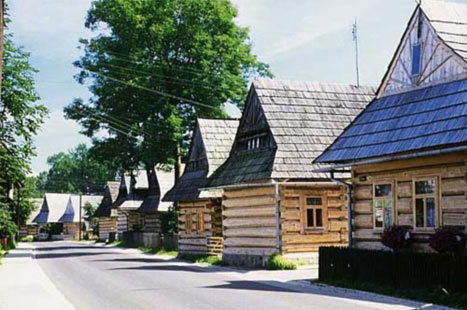 Besides its architecture, the village is also famous for its role in the doomed Uprising of 1846 (against the Austrians). This came two decades before the liberalizing of Habsburg policy, and a small museum at number 75 chronicles this romanticized episode in the village's history.
At number 28 you will find the workshop of a talented local sculptor. He is renowned for his skill with wood, and he also sports a rather magnificent walrus moustache. His studio is packed to the brim with devotional works, as well as portraits of highland characters. The house itself, both inside and out, is an enchanting example of Podhale style, with some beautiful old furniture.
On summer afternoons you are likely to meet plenty of hikers in Chocholow, and there are modest guesthouses too. However, this doesn't alter the fact that this a very folkloric place. And if you come here outside of the peak season, there are moments when you feel that you have been transported back to a different age.
It's well worth having a good potter around behind the main street, and the chunky wooden houses seem very much redolent of a Hansel and Gretel world. One house in particular, no. 24, is known as the 'house from one tree' , and it is said that the entire building was constructed from one mighty pine. In fact with each step you take from the main road, the further away the modern world seems. Haughty looking cockerels potter about, and old ladies in patterned headsquares emerge from the doorways carrying ladles of milk and buckets of grain. At these moments you can imagine what it must have been like to explore the region one hundred years ago.
Comments