Euro 2012 Comes To Wroclaw
Something very strange happened in April 2007, when Michael Platini read out the winning bid to host the European 2012 Football Championships. Instead of proclaiming 'Italy', as everyone had expected, or maybe as an outside bet 'Croatia & Hungary', Monsieur Platini, the UEFA president, proudly announced that it was Poland's and Ukraine's joint bid that had clinched it!
Needless to say there was pandemonium on the streets of just about every city in Poland and Ukraine, whose wildest dream had just come true. The celebrations were extra sweet in Wroclaw which has been chosen as one of the host cities for Euro 2012.
With the championship now around the corner, Wroclaw has just about completed its many preparations for the event. The airport and train station are undergoing renovation, and new hotels, roads, and most importantly, the sparkling new Wroclaw Municipal Stadium (Stadion Miejski in Polish), have been built.
The schedule for Wroclaw's group stage (Group A) games is as follows:

8 June 2012 / 8:45PM : Russia vs Czech Republic
12 June 2012 / 6:00PM : Greece vs Czech Republic
16 June 2012 / 8:45PM : Czech Republic vs Poland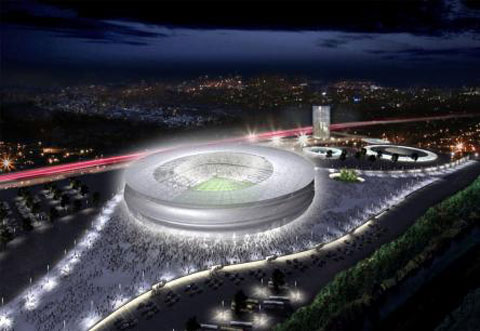 Connecting to the Stadium from:

Wroclaw Airport
Wroclaw's Copernicus Airport will complete its newest terminal in early 2012, boosting its annual capacity by 3 million passengers. Serving the usual airlines, charter flights, as well as budget carriers like Ryanair and Wizz, Copernicus Airport will most likely be your point of arrival in Wroclaw. You can drive directly from the airport to the stadium in about 15 minutes along the newly opened A8 motorway. If you prefer to travel via public transportation, head to the centre via bus no. 406, drop off your luggage at the hotel, and take a bus, tram, or train directly to the stadium.
Wroclaw Railway Station
The central railway station in Wroclaw (Wroclaw Glowny in Polish) is currently undergoing extensive renovation and modernization, scheduled for completion in the second quarter of 2012. Travelling to the stadium from the central railway station is a breeze since the opening of the stadium's own dedicated station called Wroclaw Stadion. This means you can jump on a train from the central station and be at the stadium just three stops, or twelve minutes, later.
City Centre - Public Transportation
There are currently several buses and trams which connect the city centre to the stadium, from both the north and south sides. These lines include buses 103, 403, 435 from the north side (exit at Gosławicka stop), and trams 10 and 20 from the south side (exit at Stadion Miejski Lotnicza stop).
However, by May 2012 there will be a much faster and easier connection to the stadium through a dedicated tram stop directly on the stadium's esplanade north side via tram number 31 PLUS. Along with the train, this will most likely be the most convenient way to reach the stadium.
City Centre - By Car
Like any urban centre, Wroclaw has its share of traffic, and for newcomers, driving around a new city can often be frustrating. This is why, if you are staying in the city centre, it would be much easier to skip renting a car and travel to and from the stadium via tram or train. But if you insist on car travel, it's worth knowing that route 94 is the easiest way to get to the stadium from the centre.
Outside of Wroclaw - By Car
If you'll be arriving from outside of Wroclaw by car, it's very likely you will arrive on the brand new A4 motorway. Transfer to the A8 motorway which encircles the city, and take the dedicated Wroclaw Stadion exit to arrive right at the stadium's doorstep.
If you're coming to Wroclaw for Euro 2012, you'll no doubt have a million questions. Well a little research around Wroclaw Life will pay off dividends. We've got reviews and photos on all the best accommodation in Wroclaw, and you can even book hotels and apartments via our site. Tips on travel, airport info, and scores of insider reviews on the best bars and restaurants in town. With funky extras like our Polish language starter kit, weather reports and online map (with exact locations of all the city hotspots, including the stadium) you'll be fully equipped with all the info you need for a fantastic Euro 2012 campaign!
For info on other host cities, go to our sister sites in Warsaw, Gdansk, Poznan, Krakow, Kiev and Lviv, or check out our individual articles about Euro 2012 Poland and Euro 2012 Ukraine.
Comments