The Amazing Cello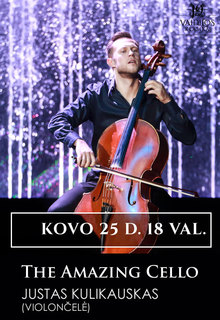 2018 m. kovo 25 d. 18 val.
The Amazing Cello
Justas Kulikauskas (violončelė)
Justas Kulikauskas – trečiosios kartos violončelininkas savo šeimoje. Pradėjęs griežti vos ketverių, jau vaikystėje jis koncertavo su geriausiais Lietuvos orkestrais, pelnė apdovanojimų nacionaliniuose ir tarptautiniuose konkursuose.
Pasivadinęs "The Amazing Cello", Justas atlieka savo kūrybos muziką ir populiariosios muzikos aranžuotes. JAV internetinės žiniasklaidos organizacija "Buzzfeed" rašė, kad kartais Justo aranžuotės net geresnės už originalus.
Atlikėjas yra įrašęs du albumus. Naujausias, pavadintas "The Amazing Cello", pasirodė 2017 metų gegužę, o debiutinis išleistas 2015-ųjų kovą. Darydamas įrašus ir koncertuodamas Justas dažnai bendradarbiauja su Petru Geniušu, Linu Adomaičiu, Juste Arlauskaite (Jazzu) ir kitais žinomais Lietuvos menininkais.
2007 metais Justas tapo Naujų idėjų kamerinio orkestro nariu. Su šiuo kolektyvu jis jau apkeliavo daugybę pasaulio šalių, dalyvavo įvairiuose muzikos renginiuose. Uzedomo festivalyje ypatingos sėkmės sulaukė Justo atliktas estų kompozitoriaus Arvo Pärto kūrinys violončelei solo "Fratres". Pastaraisiais metais jis dažnai kviečiamas griežti kompozitorės Justės Janulytės projekte "Smėlio laikrodžiai".
Atlikėjas domisi ne tik akademine, bet ir kitų stilių muzika, pats ją kuria ir prodiusuoja. 2012 metais Justas dalyvavo antrajame "Loop Station" pasaulio čempionate ir pateko į geriausių pasaulyje efektų pedalus naudojančių muzikantų aštuntuką.