Red Hot Chilli Peppers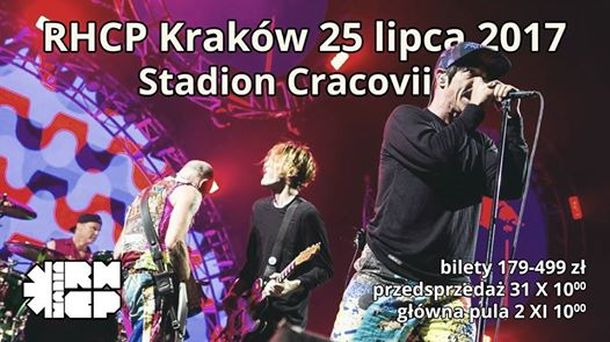 Red Hot Chili Peppers will perform for the fourth time in Poland. This time it will be Cracow!
The band will play on July 25, 2017 at Cracovia Stadium located on Józef Kałuży Street 1.
Tickets will be available from November 2nd at 10:00 am on www.LiveNation.pl
Tickets are available at authorized retail outlets, ie Empik, Saturn, Media Markt.
register at rhcp.com for more tips. Learn More ↓ ↓ ↓
www.rhcpmania.pl
https://www.facebook.com/rhcpmaniapl/?fref=ts
https://www.facebook.com/groups/polandlovesrhcp/?fref=ts
http://www.youtube.com/user/RHCPmaniaTV
https://vimeo.com/user56410514
http://livechilipeppers.tumblr.com/