What's On This Weekend – Events In Krakow – 15th to 16th June 2019
"What are you doing this weekend?"
Without fail, you will be asked this question every single Friday by co-workers, friends, children (we even ask ourselves)... but the answer often eludes us as we reply with a resounding "ummmmmmm", finger resting limply on our stupid planless chins.
When you are in a city as vibrant and active as Krakow, with a new festival or market every week, exhibitions on every corner and concerts next door, there's no reason we should be left umming and ahhing about how we're going to fill our mini-holiday-super-fun-space-time. With so much going on, it can even be overwhelming - the fear of missing out on something better leaves us in a procrastinatory paralysis. We feel your pain, so, we have done the research for you.

Arka Horoscope
15th to 16th June 2019
If you are reading this, then it has been written exactly for you to read at exactly this moment.
"This weekend it's all about the growth of a will. That secret place of power inside of us all. It may be an overloaded and trying time for you, so, take heart in the fact that you are being challenged only because you have shown enough strength and walked to a place in the great cycle where you are ready to take on the opportunity of expanding your consciousness - your intelligence of mind and your silence of not mind. Growth can be challenging and scary at times but it brings with it new heights, new perspectives and knowledge that up until now has been hidden from you. Like the young King Arthur, you are being asked to dig deep within yourself, to seek out the true force of your power and to pull that mischevious sword from its eternal stone. You can use this sword of will to cut away the old and the extraneous, what no longer serves you. A way of behaviour which up until now you have considered a part of your identity, which are no longer proper to the god or goddess you are blossoming into. Forgive yourself and release these sources of guilt, pain, sadness, judgement and trauma with love and appreciation that by being wrong, it taught you to see what was right. Forgive it, and let it go.
Have fun exploring your power, which has both new and old. It was always there but it took until now to feel it. Use it with love, kindness and compassion - but be aware that it is not this willpower you are using if you are creating hurt or wielding negativity. Don't get the parts that need to be cut away confused with the sword.
Most of all - don't be so serious. While there is considerable hard work involved, you should undertake to do it joyfully, with patience and a sense of humor. "
~~~
~~~
Here are some of the mysterious doorways to your destiny. Don't be fooled by their appearance. You know which doors are truly for you, sometimes it's the opposite of what you normally would have picked, sometimes it's your abiding thoughts. Be brave. Take a chance. Turn that doorknob. Infinity is waiting for you....
Door 1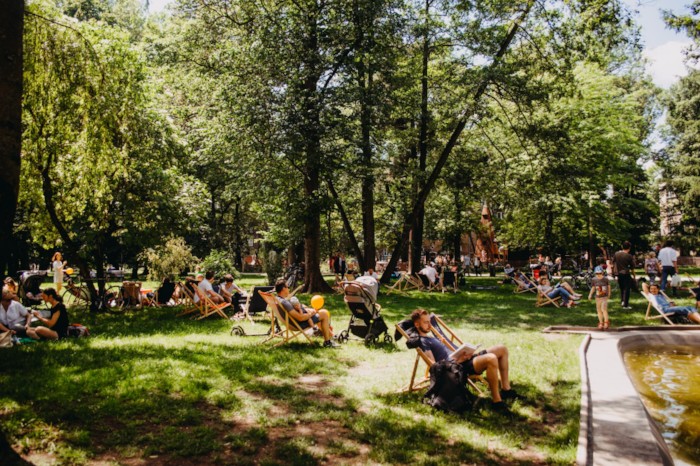 Piknik Krakowski is an amazing community picnic series, regularly held in some of Krakow's most beautiful parks. In the warmer months, the clever people behind this initiative encourage us to come out of our shells a little, leave our televisions behind and head to nature with nothing but a blanket in hand.
A delicious variety of food stalls & food trucks provide the food whilst local designers, stores & producers also sell their beautiful wares. Every picnic brings something new and different. Many charities also take the opportunity to fundraise in really cool ways.
Loads of fun activities are provided (usually for free) including various workshops and games such as soccer, yoga & meditation, So, bring your dog, your kids or just yourself and spend the day enjoying the sun and the trees!
Free admission 'cause everyone's welcome to spend their days in Krakow's magical parks :)
When: Sat & Sun - Click for full schedule
Where: Sat – Park Jordana, Sun – Park Dębnicki - Click for list of parks
How Much: Free!
~~~
Door 2

Definitely make some time to drop by this ancient celebration of midsummer which overflows with fun, music, food and magic.
From Friday to Sunday, the length of
Bulwar Czerwieński
(the riverside beneath Wawel Royal Castle, although it inevitably spills out over the rest of the city too) will be transformed into a mystical wonderland of medieval adventure. This fair has taken place annually in Poland since the middle ages and they aren't stopping now! This particular Krakowian edition may only be 9 years into its legend but it's learned from the best. Keeping the original traditions of the fair alive, you will encounter alchemists, comedians, courtiers, knights, falconers, craftsmen, and more. Revel in the glorious renaissance
performances, processions and aromatic food, of a bygone era much more fun than our modern one.
When: Fri 14th - Sun 16th
Where: Bulwar Czerwieński
How Much: Free
~~~
Door 3
Night of the Theatres // Noc Teatrów
Saturday night brings us the next celebration in the annual series of 'Night of the.. (museum/dance/jazz/sacred places & poetry)'. Side by side with 'Night of the Dance' which takes place on Sunday night, this series is an incredible opportunity to explore Krakow's cultural depths which we are so grateful for. Night of the Theatres is exactly what it says - a very special time when the sun goes down, the moon comes up and all of Krakow's theatres open their doors to the public, or go out in the streets to perform fantastical fables and terrific tales through body movement, costume, puppetry, manipulation of light and sound... and a big handful of magic dust thrown in. There will be plays and performances happening all across the city all through the night, completely free for everyone to come and enjoy.
There's so much to choose from that we recommend you take a look at the program below to see what catches your eye the most, then make a beeline for it with the handy map and see what's nearby to enjoy to next. In this way, you can spend the whole night blissfully wandering the city like a treasure hunter. We especially recommend Teatr KTO for spectacular and moving displays.
When: From midday onwards
Where: All over the city Here's a map
How Much: Free
~~~
Door 4

Night of the Dance // Noc Tanca
Following Saturday's 'Night of the Theatre' is this equally spectacular and stunning celebration of Krakow's dance studios, classes, groups & troupes. Experience the wide world of dance themes, genres & styles through variety of traditional, artistic and avant-garde performances, interactive workshops, film screenings, experiments with dance, public dance parties and even a flash mob. 13 unique locations will be brought to life by music, light, dancers and groovy people of the city such as yourself.
Where: All over the city
When: Sunday from 2 pm until after midnight
How Much: Free
~~~
Door 5

The ultimate picnic for the soul, ParkJeMyEko is now in its 6th year of enlightened fun in Podgorze's gorgeous Park Bednarskiego. A full day of awesome activities that you can choose to take part in or chill on the grass and observe. Workshops, games, dancing, musical, dance and artistic performances, development and fitness workshops, yoga and more. Health, freedom, well-being and creative time with cool people. No alcohol or stimulants but with delicious veg food to give you a cleaner buzz. Come and share your passions, your creativity and your lifestyle. Stuff for people of all ages, everybody is welcome to join this celebration of earth.
When: Sat 12 pm to 10 pm
Where: Park Bednarskiego
How Much: Free
~~~
Door 6

It's no secret that Cracovians are completely obsessed with the camera… they worship it. And If Krakow is photography's holy city then Krakow Photomonth is the extended holy feast. The ultimate celebration of light, shadow, memory, the moment and the moments missed - of the art of life. Temporary temples of film will be popping up all over the city as established galleries formulate their own impressive displays. Expect discussions, workshops, activities, parties, DJ's, concerts and, of course, loads of brilliant exhibitions. photo: Photo: M. Koval
When? 24th April to 23rd May 2019
Where? Various Locations
How Much? Mostly Free
Program // Accompanying Events // Official Festival Website // Facebook
~~~
Door 7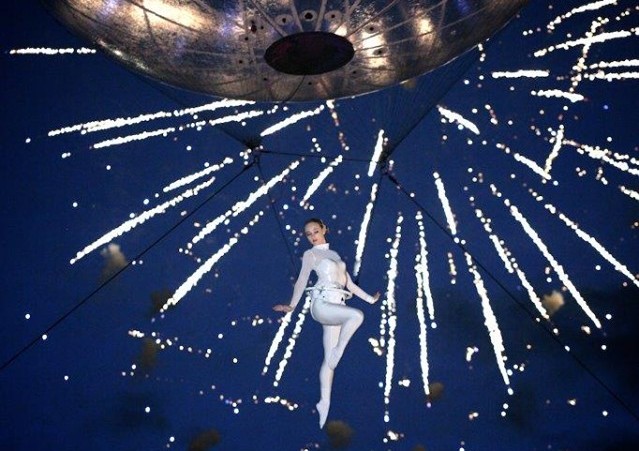 Kazimierz Summer Festival Grand Opening
"In a unique combination of dance, theatre and acrobatics, world-famous group 'The Dream Engine' will perform for the first time in Poland, officially launching this festival series of events that will last throughout the summer.
These talented acrobats have taken part in numerous festivals and sporting events around the world, including the Wembley Football Cup final in at Wembley stadium and the Lollapalooza festival in Berlin. They were even invited to participate in Cirque du Soleil! In their performances, they use amazing props such as helium balloons or air-filled arches. Complemented by a colourful light show and perfectly aligned music, The Dream Engine will create a show so unforgettable that you have to see with your own eyes to believe it. This spectacle will take place in front of Galeria Kazimierz at 17.30, 19.30 and 21.00, kicking off the Kazimierz Summer Festival for 2019!
But this is just the beginning! Galeria Kazimierz are pulling out all the stops this summer with long, hot weekends filled with unique and exciting events. Live theatre performances, concerts from phenomenal artists, food truck festivals and more - there's something for everyone to enjoy! From June 15th to August 24th, you're in for a real treat.
When? Sat 17.30, 19.30 and 21.00
Where? Galeria Kazimierz
How Much? Free
~~~
Door 8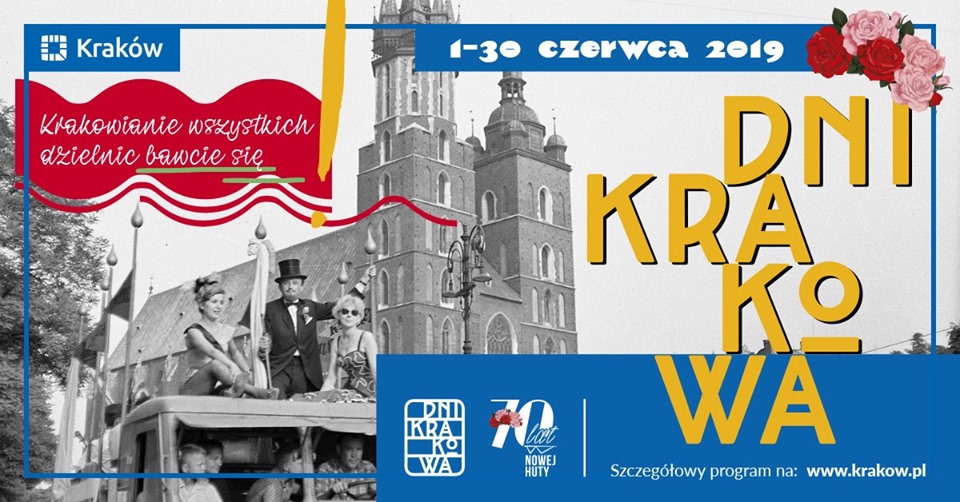 "Festivals and great outdoor events, Theatre Night and Dance Night, City Festival and the anniversary of Nowa Huta – all this and plenty more besides comprise Kraków Days!
June abounds with culture in Kraków, and for the last two years the most important events have been held under a joint banner: Kraków Days recalls the interwar tradition of a grand city festival of just that name, and serves as a testament to the incredible diversity of the programme. And although academia is winding down to well-earned summer holidays, the arts in all their forms – from music, via poetry and theatre, to dance – are flourishing!" [krakow.pl]
Where: Various Locations
When: 1st to 30th June
How Much: Mostly free
~~~
Door 9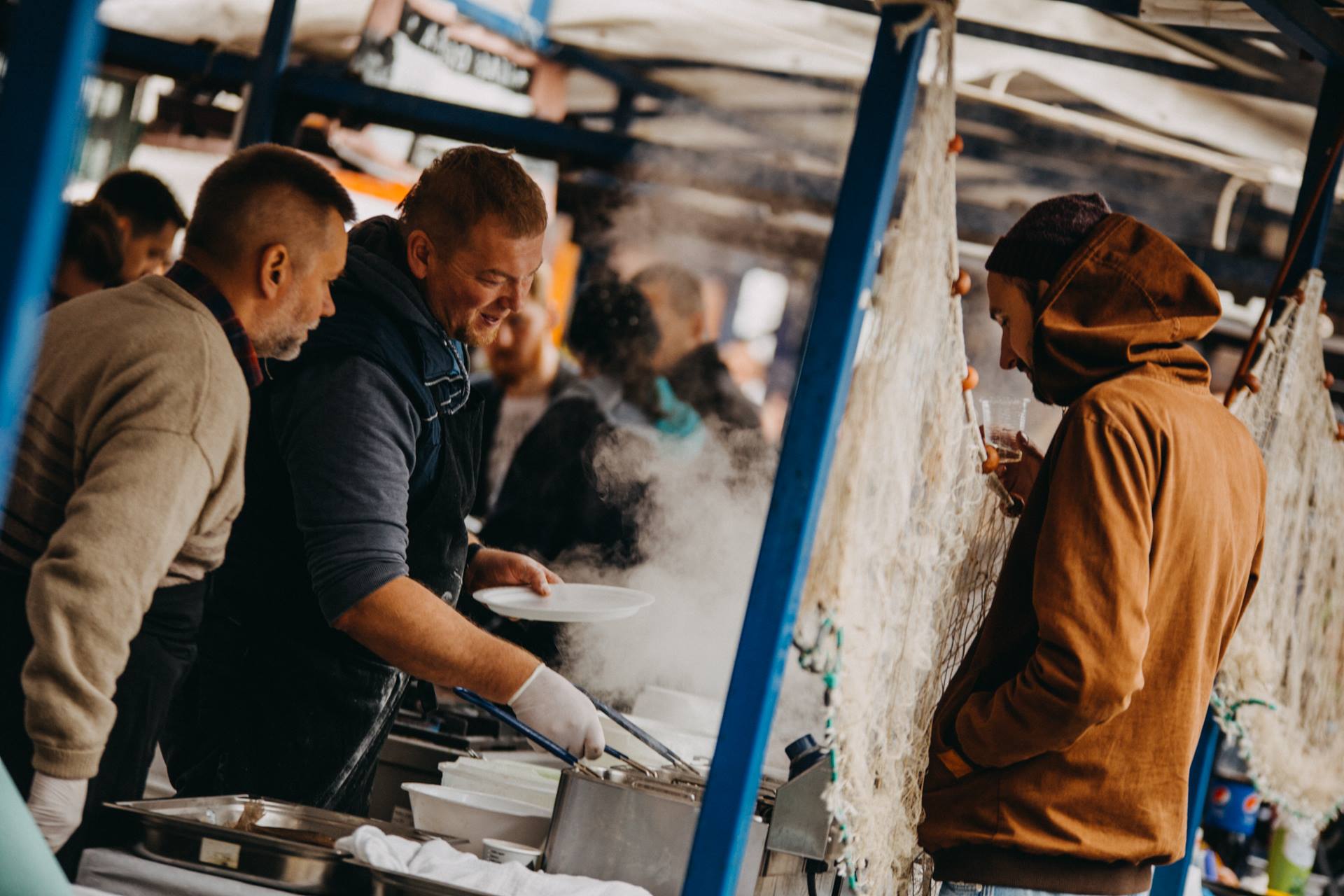 It's time for the delicious March edition of Art & Food Bazaar to grace the stalls of the historical Stary Kleparz Market. As usual, this precious gem of market joy will be serving up all kinds of tasty treats from small local producers and exotic international chefs with such delights as vegan cuisine, devilish and healing kimchi, brilliant cakes, your favourite fresh seafood, Sicilian pastes, Mediterranean deli, Syrian mezze and Georgian grill. Showcasing the talents of local bio winemakers and craft breweries, you'll forget about the rest of the world for a while you relax into the gorgeous casual atmosphere of this down to earth yet super cool bazaar. Why not try it all! Make a little picnic on the empty stall tables as you sip fantastic wines and let the magnificent flavours of Venetian scallops excite your palate. Not to mention the art side of things, with everything from beautifully coloured ceramic bowls and carved wooden chopping boards, delicately crafted jewellery to hand sewn/printed/dyed dresses, scarves, cushions, bags, fabrics and much much more!
When? Sun 11 am to 5 pm
Where? Stary Kleparz

~~~
Door 10

"Premiere of Leonard Bernstein's Candide, Barber of Seville comeback and three great operas - that's a brief look upon Kraków Opera Summer Festival, which will take place for a 23rd time this year. The festival has been attracting a massive audience and the stars of opera scene. Although none of us can control the weather, Kraków Opera will do everything to ensure that the temperature of artistic experience will remain high."[source:
krakow.pl
]
When? 7th to 29th June
~~~ ~ ~~ ~~~~ ~ ~~~ ~~~ ~ ~~~ ~~~ ~~ ~~~~~~~~
good luck
Comments