Guide to Krakow's Outdoor Cinema Season
Once we watched films in the cinema, then we watched films on our VCR, later we watched films on our DVD player & soon we began to watch films on our laptops, ipads & mobile phones.
As the options became less and less romantic, Krakow in all it's coolness grew more and more displeased until one day there erupted a rumbling from deep within the earth. The ground shook, the Mariacki trumpet started playing the heynał all by itself, the Wawel chakra began to glow and from the ancient pagan mounds rose an army of giant projector screens! Legend has it that the giant projector screens stormed the city causing havoc, eating televisions and iphones and people.
The wise citizens of Krakow soon realised that the way of the giant projector screens was the right way and accepted them as their gods and benefactors. Immediately the giant projector screens lit up with ethereal colour and a soundtrack made of diamond wavelength vibrated in the air - it was the most beautiful, hilarious, touching, romantic, adventurous, luxurious, humble, artistic, raw, creative, abstract, logical, exciting and mindblowing film that the people had ever seen and they sunk to their knees in it's glory only to find themselves reclining in comfortable deck chairs with a cider in one hand and an obwarzanki in the other.
This is why every year when the sun shines upon the city, the people of Krakow remember the beautiful lesson taught to them by the gods of cinema - raising giant projector screens in the parks, gardens, rivers, rooftops, squares and streets where the cinemonsters once lay. Today the citizens pay homage to these heroic behemoths and their miracle movie enrapturement by screening the best films, shorts, documentaries and animations to be found on this earth.
Here's our complete & up to date listing of all the Outdoor Cinemas in Krakow.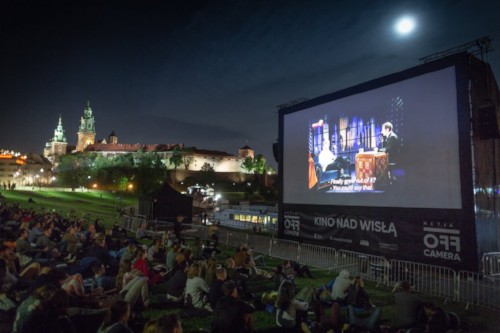 Festivals With Outdoor Screenings
Accompanying Krakow's notorious whirlwind festivals of film are some of the first outdoor cinema screenings of the season! They typically take place in spectacular surroundings and are completely free and open to the public.
You'll generally find their screens set up in: Plac Sczcepanski, Bulwar Czerwanski (by the river under Wawel), at MCK, at MOCAK
Catch award-season blockbusters, independents and festival competition entries from Poland and around the world at one of the biggest film festivals in Central-Eastern Europe. You'll find their screens set up in Plac Sczcepanski, Bulwar Czerwanski playing films nightly throughout the duration of the festival, with even more special screenings on the roof of MCK and in Tytano.
KFF ties with OFF Camera for Krakow's most giant city taking over film festival/competition but leans much more towards the independent side of things. Every night of the Krakow Film Festival, you can catch a movie not only under the stars but also right under Wawel Castle with their open-air cinema set up at 11 Powiśle, at the base of Wawel Hill. Each year the programme consists of different films, new, classic, local or international; all collected under the title "Sound of music" following a theme of music in film.
Eituda & anima
Nad Wisła
Kinobranie
juwenalia
BAL
MCK
http://krakowexpats.pl/entertainment/summer-outdoor-cinema-guide/
KINO LETNIE 'POWISLE 11'
In a magical setting, under Wawel and by the River, screenings are held every Friday and Saturday evening during July and August.
Powisle 11
7/7 – 26/8/17
2030/2100
Programme & Information
LETNIE PROJEKTOR – (By the riverside)
This years letnie Projektor, has the theme 'Water' which explains why various riverside locations have been chosen for the free screenings. A joint venture by Stowarzyszenie Archipelagi Kultury and The US Consulate General in Kraków.
Various riverside locations
16/7, 23/7 & 30/7
2100
Programme & Information
16/7/17 – Bulwar Kurlandzki (Grzegórzki)
23/7/17 – Yacht Klub Polski, os. Mogiła, Przystań nad Wisłą (Nowa Huta)
30/7/17 – Port Płaszów (od strony ul. Na Zakolu Wisły)
You can find more information, location maps, photos, programme details etc on their Facebook Page.
Letni Projektor Facebook
KINO LETNIE- GALERIA KRAKOWSKA
Organised by Galeria Krakowska, with screenings in the square in front of the shopping centre and train station. With seats for 350 people, the programme includes cult movies, with comfortable chairs in a unique atmosphere. Admission is free.
You have an opportunity to vote for your favourite movie, chosen from a selected list, to be screened at a future date. Visit the galeria Facebook Page to vote.
plac Jana Nowaka-Jeziorański
Every Saturday until 26th August
2100
Programme & Information
KINO LETNIE MNK (National Museum of Krakow)
Organised by the MNK, National Museum of Krakow, and held in the garden of the Pawilonu Józefa Czapskiego, a programme of films in cycles of biographies, and art. Admission is free.
Józefa Czapskiego Pavillion, Pilsudskiego 12
Every Saturday until end of September
varies – 1945 – 2045
Programme & Information
BULWAR(T) SZTUKI KINO PLENEROWE 2017
A series of movies under the theme 'Wilderness', brought to you by Laznia Nowa Theatre. Including pre-screening introductions, meetings and discussions.
Zalew (Lagoon) Nowohucki, Krakow – Bulwarowa
Sundays 16/7, 23/7, 30/7. 5/8, 13/8
varies – 2100-2200
Programme & Information
W mieście o mieście – Kino Plenerowe
A festival of film, in the popular and vibrant Dolnych Młynów, at Samoż. films on the theme of 'smart city', with a special screening for cyclists.
Samo Ż, ul. Dolnych Młynów 10
Thursday 6/7, 3/8, 10/8, 17/8, 24/8
varies – 2030
Programme & Information
KINO NA TERRASIE (Cinema on the Roof Terrace)
As part of the 14th Summer film review, (Wakacyjne Podróże Filmowe) Agrafka Cinema presents a series of films on the theme of holiday travel. Films are screened on the roof at Kino Agrafka, until 3rd September. Tickets from 12zł.
Cinema Agrafka, Krowoderska 8
Various until 3rd Spetember.
varies – 2030
Programme & Information
FILMOWE LATO – FORUM PRZESTRZENIE
Relax on a deckchair with a view of the Wisla, at one of Kraków's coolest places, and enjoy outdoor cinema, at sunset, every Tuesday, Wednesday and Thursday until the end of August. Free admission.
FORUM Przestrzenie
Various until 28th August.
varies – 'Sunset'
Programme & Information
BALowe Kino Plenerowe (BAL Outdoor Cinema)
Bal in Zablocie also has a series of films in their summer garden. You can vote on the film to be shown on the Sunday screening at the BALowe Kino Plenerowe Facebook Group. Free admission.
BAL, Ślusarska 9, Zablocie.
Thur, Fri, Sat, Sun until end of Sept.
2100
Programme & Information
As well as those main events, other smaller venues will be providing outdoor cinema for your enjoyment, just google Kino Letnie Kraków (summer cinema) or Kino Plenerowe Kraków (outdoor cinema).
Comments