The Votes for 2007 Are In!
When our Ten Best Places of 2006 turned out to be such a success, we decided that the city's top quality places to eat, sleep, drink, shop and get culture should be rewarded again, so now we present our Best Places in Cracow awards for 2007.
As always, our goal in giving these awards is to reward excellence, and to encourage further excellence. You might notice that some of places we've picked are the same as the choices for 2006; that's because these places have continued to provide the same excellent experiences that we picked them for the previous year. However, we have quite a few new winners as well, which in just the past year have shown excellence and deserve recognition. We also have a new category, "Best New Places", recognizing those places which have opened in 2007 and are already making a very positive impact on the city.
Throughout the city, you'll find these places with our 'Best Place 2007' sticker - and you know you can expect only the highest quality of service there! And remember, throughout 2008 we'll be constantly monitoring your reviews so we can pick out the best places for 2008; if that's not enough incentive to review, remember that you can win a free trip to Krakow!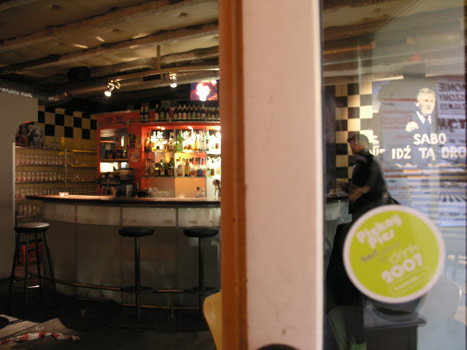 Above: Piekny Pies, one of the 2007 winners

And the winners are...
Best Places to Eat
Cherubino
Corleone
Edo Sushi
Hawelka
Kalinka
Mamma Mia
Miod i Wino
Momo
Orient Express
Piano Rouge
Polskie Jadlo
Solfez
Szara
Best Places to Sleep
Amber
Ester
Globtroter
Grodek
Mama's Hostel
Momotown Hostel
Nathan's Villa
Piano GuestHouse
Qubus Hotel
Saski
Stary
Wentzl
Best Places to Drink
Art Club Bledne Kolo
Boogie Cafe Bar
Budda Drink and Garden
Cafe Bunkier
Cien
Irish Pub Pod Papugami
Kitsch
Nic Nowego
Piekny Pies
Prozak
Someplace Else
Zblizenia
Best Places to Shop
Cool Sport
Galeria Kazimierz
Galeria Krakowska
Kredens
Massolit Books
Naturalny Sklepik
Rynek 13
Best Places for Culture
Alchemia
Bunkier Sztuki
Este Gallery of Curiosities
Galicja Museum
Groteska Theatre
International Cultural Centre
Kijow Centre
Pauza Gallery
Best Places for Services
Ambra DaySpa
Crazy Guides
Dentall
Jean Louis David
Soho Hair Club

Best New Places
To Eat: Carlito, Ancora, Enso
To Sleep: Bonerowski Palace, Hotel Andel's
To Drink: Miejsce Bar, Swing, Buena Vista
To Shop: Punkt, Wedel
Services:Pepe Laundry
Comments