Gdynia Beach Party 2006
It may sound like a clich, but the Gdynia Beach Party is back - and is bigger and badder than ever! Following the enormous popularity of the inaugural Sopot Beach Party in 2004, the organisers decided to move the party to the more spacious confines of the Gdynia beach in 2005, with 2006 all set to be a triumphant return to the very same shores!
In its short history the party has already gained a legendary status in Poland thanks to its ambitious programme which includes, not only some of the best trance, techno and house DJs in the world, but also a towering mobile stage (with exotic dancers whisked in straight from Ibiza!), vast light shows, gigantic firework displays and huge visuals on plasma screens.
This summer, on August the 11th and 12th, an expected 80,000 people will gather to dance the night away under the stars, in what promises to be one of the biggest and best parties of the year!
So who's coming? Check below to see the headliners…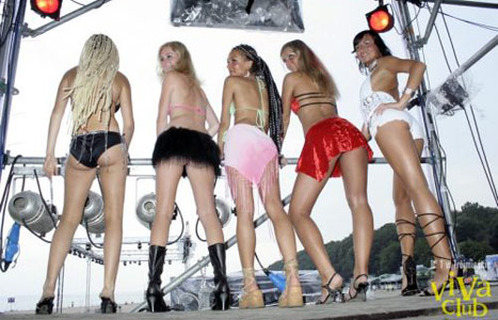 August 11th
Blank & Jones
The German duo, Blank & Jones (real names Piet Blank & Jaspa Jones), will be bringing the unmistakable sounds of Teutonic trance to the Baltic shores on the Beach Party's opening night. Expect plenty of hands in the air - especially if they drop one of their famous Pet Shop Boys remixes.
Lucca
They say you can't have talent and beauty - but they were wrong! The blonde bombshell from the Czech Republic has won over fans with both her hard-hitting tracks and her cheeky smile. She's DJed all over the world with one of her biggest gigs being the legendary Dance Valley Festival in Amsterdam 2005.
Dave McCullen
The Belgian DJ/Producer is a veteran of the dance scene. Known for his tough trance beats, Dave has been exploring more electro grooves of late… So you'll have to wait and see what to expect!
Andy Moor
Still young by today's DJing standards, Andy Moor can boast about recently creeping into DJ Magazines list of top 50 DJs in the world! A talented musician and producer Andy has remixed the likes of Paul Oakenfold, Tiesto - and even Britney Spears. The man from Blighty isn't here just to make up the numbers!
Hypno
Lucky Gdynia! A late addition to the line up, Hypno will be well known to connoisseurs of the Krakow nightlife scene. A regular in the legendary Prozak club, Hypno draws crowds like Rolf Harris draws Kangaroos (ie. very well, and usually quite big!). Some phat, mind-twisting electro house is guaranteed to put the icing on Friday's proverbial cake!

August 12th
Westbam
If ever a man needed no introduction then Maximilian Lenz, aka Westbam, is he. The German pioneer of techno has been at the forefront of the dance music revolution for over two decades - and shows no signs of slowing up. Expect an aural treat of the tastiest kind from the Beach Party's main headliner!
Rank 1
Originally called 'Pedro & Benno', Rank 1 wisely changed their name before hitting the big time in their native Holland. These guys love to mix melodies with dance beats and are sure to deliver up some euphoric classic, like their own superhit 'Airwave', come the 12th.
Olav Basoski
The son of Polish soldier, Olav Basoski of the Netherlands is all set for a warm homecoming party this August. A classically-trained musician Olav knows a good tune when he hears one - and he sure likes to share it. One slice of uplifting Dutch trance coming right up!
Benassi Bros. featuring Sandy
Unless you've had your head stuck in the sand for the last couple of years, there's no way you can't have heard Benny Benassi's romper-stomper hit 'Satisfaction'. Along with his cousin Alle, and the lovely Sandy, Benassi will be rockin' the masses with that track - and many more crowd-pleasing house anthems besides!
Greg Vickers
Another late addition to the Gdynia Beach Party line up, Mssr Vickers is a more than welcome guest! A Tribal Sessions resident who has played in all the major UK clubs (The End, Turnmills, Ministry of Sound) as well as gigs all around the world, Greg is a maestro of every subgenre of house. He'll be sure to read the crowd and give them exactly what they want!
The Gdynia Beach Party starts at 17:00 each day and is organised by the Viva Night Club, Sopot.
You can buy tickets before the Beach Party on Friday and Saturday in Gdynia on the beach itself, however you are better off buying an advance ticket (available from Monday 7th) at Viva Club, Sopot or the Silver Screen Cinema in Gdynia.
Ticket for one day: 60 PLN/20 USD
Ticket for one day with all food, drink included, and a table reservation: 250 PLN/83 USD
Comments