Best Places 2014
Visit our page about the winners of the 2015 Best Places awards as well!
The 2014 Best Places awards went to:
Hotels & Beds:
3BE
Holiday Inn
Hotel La Reine
Van der Valk Hotel Eindhoven
Food:
Brasserie FLO
De Burger
De Karseboom
Ketelhuis
Mi Dica
Drinks:
boca
CoffeeYou
O'Sheas Irish Pub
Rouge
Van Moll
Shops:
Charlotte Store Eindhoven
Design Daily's
Out Of The Blue Concept Store
Leisure:
The Hub Eindhoven for Expats
Services:
Dutch Taalles
FasTracKids Eindhoven
Heerings Bicycle Rental & Repair
MyHousing
Rots-Vast Groep Eindhoven
Culture:
Eindhoven Museum
Library Eindhoven
Parktheater
Why do we award the Best Places?
Because we want to reward and encourage excellence in places, services and ideas. As a barometer of all that goes on in Eindhoven, we feel it's our responsibility to point our readers (mostly newcomers and guests in Eindhoven) in the direction of the very best Eindhoven has to offer. Also the Best Places competition has been a huge success in other Local Life cities for many years, so it's about time we start this iniative in our city as well!
Which places are awarded as Best Places?
Best Places are awarded based on popularity and the number and quality of visitor's comments on our website. All places represented on our website can be reviewed and therefore awarded the title Best Place. If your own business or your favourite place is not yet listed, you can simply add the place here.
How can you find out what the Best Places are?
The Best Places are mentioned on our website and on our social media channels and they are recognisable in the city, look out for our bright coloured stickers and a plaque saying 'Best Places 2014', and you've found one! Any place with a Best Place sticker is also a hotspot to get one of our free Guides to the city.
What can you do to help newcomers and guests in Eindhoven?
In the true local life spirit we encourage all locals (including new and/or temporary locals) to review the places you've been to on our website. Share your experiences and ideas about the Best Places in Eindhoven! Simply search by the relevant category and then press the review button at the bottom of the page to add your comments. Every month the best reviews will receive a prize that enables you to go see even more of Eindhoven.
Best Places: a title to be proud of!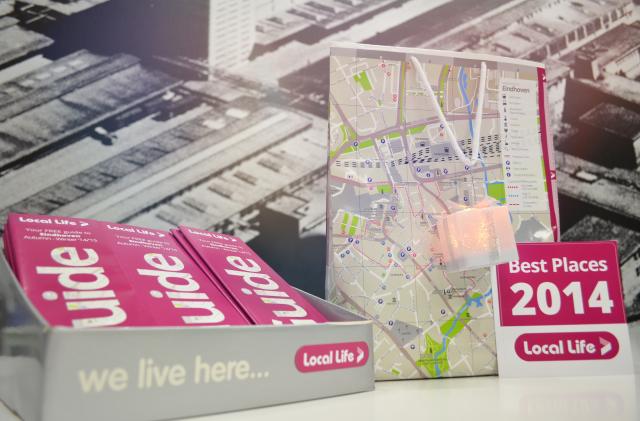 Comments