Cosmic Comedy Showcase with Free pizza & shots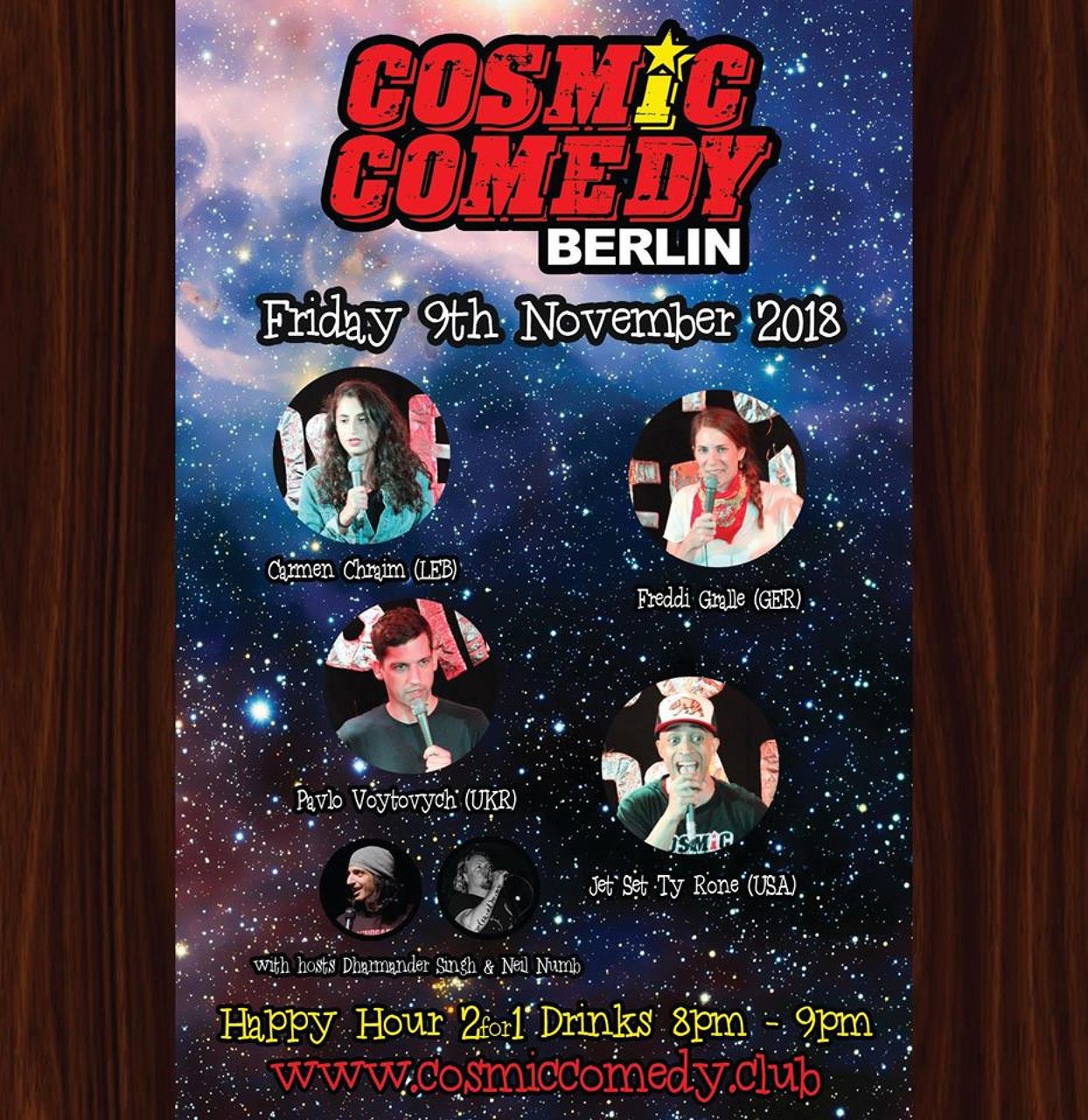 Cosmic Comedy Club with Free pizza & shots
Friday 9th November 2018
★★★★★ THE ACTS ★★★★★
Jet Set Ty Rone (US)
Carmen Chraim (LEB)
Friederike Freddi Gralle (DE)
Pavlo Voytovych (UKR)
Please join us for an amazing English comedy show in Berlin (almost) every Monday, Wednesday, Thursday, Friday & Saturday night, featuring some of our favorite comedians from Berlin and some amazing international guests.
Please check all show dates on our website as occasionally events are not happening due to sporting events in the venue :
http://cosmiccomedy.club/comedy/
★★★★★ THE HOSTS ★★★★★
Dharmander Singh : https://www.facebook.com/ComedyDharmanderSingh/
Neil Numb : https://www.facebook.com/neilnumbcomedy/
★★★★★ GROUP CHAT ★★★★★
Join our chat group to meet like minded people who are also into going to Comedy shows: https://bit.ly/2C4UJBM
★★★★★ OPENING TIMES ★★★★★
Every Monday, Wednesday & Thursday ~ Open Mic
Every Friday & Saturday ~ Showcase
Pizza & Shots from 8.00pm (while stocks last)
Happy Hour Drinks 8.00pm – 9.00pm
(2 for 1 drinks on House spirits, Carlsberg beers & Selected Cocktails)
Main Comedy Show from 9.00pm
★★★★★ MORE INFO ★★★★★
The venue is Non-Smoking and has a "Nice people only policy!"
Wheelchair access available, please just let a staff member know when you arrive.
All the FREE pizza is vegetarian and vegan, we have over 5 meters but please remember its while stocks last, so please arrive before 8.15pm to avoid disappointment as it goes fast.
Regular food is also available at Cosmic Comedy Club please just order from our bar.
The Menu is here : https://bit.ly/2ONwUoX (contact us for group orders)
★★★★★ PERFORM AT COSMIC ★★★★★
If you would like to perform at Cosmic Comedy Club please read these instructions :
http://cosmiccomedy.club/performing/
★★★★★ ADVANCED TICKETS ★★★★★
Tickets are available on the door from 8pm, or in advance online :
Advanced tickets: https://cosmiccomedy.club/comedy/
Group Bookings: https://cosmiccomedy.club/groups/
★★★★★ THE VENUE ★★★★★
Bar 1820 @ Belushi´s, Rosa-Luxemburg-Straße 41
10178 Berlin : https://www.facebook.com/1820BAR