Shops and shopping...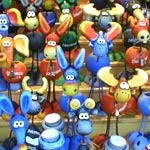 Whether its folksy odds and ends to take back home or hiking gear for the mountains, Zakopane's got plenty to keep you happy. The market too, is something of a world in itself - a very colourful place where you might pick up anything from bear-hunting jackets to a St. Bernard puppy - it requires immense will-power to resist taking home the latter! Needless to say there's plenty of stores selling top of the range skiing gear and other alpine equipment too, so don't worry if you forgot your crampons...
See on Map
Looking for something specific?
Top rated shopping in Zakopane