Zakopane Museums
As the former 'cultural capital' of Poland during the late nineteenth century, Zakopane has a surprisingly rich clutch of museums to explore. So if cruel fortune strikes you down with a twisted ankle on your first day on the slopes (or you've simply had enough of all that ski-ing and hiking), there are plenty of opportunities to improve the soul. Indeed, on returning to the outside world you can dazzle friends and prospective lovers with your connoisseur's take on Polish art, and your sparkling, witty knowledge of Highland folk culture.
In town, a good place to kick off (or hobble in bravely on your crutches) would be the Tatra Museum. Founded in 1875, it is one of the oldest regional museums in Poland. With some charming folk interiors, and a range of local costumes and art, it has plenty to inspire fans of Highland style. Upstairs are the geological collections, whilst a fantastical array of stuffed animals - many over a hundred years old - lend a bewhiskered nineteenth century explorer air.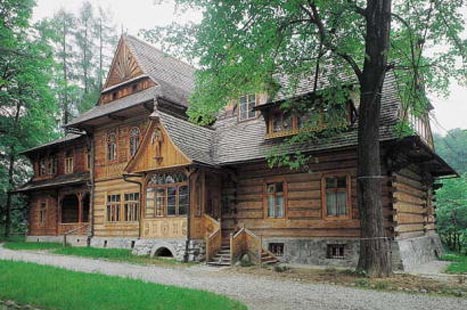 Less fusty is the Villa Koliba, Stanislas Witkiewicz's first experiment in the famous 'Zakopane Style', which caused a great stir in the last years of Habsburg Galicia. The villa is now a beautifully arranged museum of the movement, but it is also worth dropping by for the extraordinary collection of portraits by Witkiewicz's son, the now legendary Witkacy.
Heading into increasingly far out territory, the Wladyslaw Hasior Gallery transports you into a weird and wonderful world like few others. Hasior was one of the foremost artists of the post-war era, and he spent much of his life here in Zakopane. This gallery, conceived and created by Hasior himself, is the best possible introduction to his peculiar world.
Returning to the pre-war years, music lovers will be intrigued by the historic Villa Atma. This was once the home of Karol Szymanowski, who is perhaps second only to Chopin as Poland's greatest composer. He was a staunch proponent of Highland culture, and wove many folk elements into his compositions over the years.
A little further afield there are plenty more interesting places to visit. And if you have a car, or don't mind a short bus journey, it's well worth bearing them in mind. Some of the best options here are Niedzica Castle, Chocholow and Lopuszna. The Lenin Museum on the other hand, a permanent fixture during the Cold War Years, was dissolved with the arrival of democracy in 1989. Lenin spent two years in Galicia, and his last months before the Great War were spent at Poronin, just over the hill from Zakopane.
Zakopane Town
The Tatra Museum
ul. Krupowki 10
Dedicated to the philanthropist and doctor, Tytus Chalubinski, who 'discovered' Zakopane in the 1870's, this is amongst the oldest regional museums in Poland. Moved to this specially designed building in 1922, it houses a number of collections, including folk art, local costume, flora and fauna as well as some actual interiors of old highlander dwellings. A little fusty in parts but a must if you are interested in any of the above.
The Museum of the Zakopane Style
ul. Koscieliska 18
An enchanting museum based in an attractive turn of the century villa. This was the first residence in the Zakopane Style, and the interiors now chronicle the development of the movement. The main focus falls naturally on Stanislas Witkiewicz, founder of the style and its guiding light. Like the English Arts and Crafts movement, his was an all embracing vision, with every aspect of design echoing his principles. Much of the house is rendered as a typical villa of the age (or perhaps more accurately the ideal Zakopane villa of the age) with many treasures including clocks, chairs, tables, and curtains all designed by Witkiewicz himself. Throughout, an unobtrusive art nouveau spirit is blended with traditional highland style. The lurid pastel portraits by his son Witkacy are an added bonus. A marvelous place.
Wladyslaw Hasior Gallery
ul. Jagiellonska 18b
A journey into a fantastical world. Hasior was one of the leading post-war artists in Poland. The experience of his gallery ( which he designed himself) is a bit like being in a Dr. Who episode. Eerie, ambient music sets the tone, with an interior of an old wooden sanatorium providing the backdrop. Hasior utilized almost anything under the sun in his work - magazine cuttings, old clocks, toys, prams - and this is one of Zakopane's eccentric treasures.
The Karol Szymanowski Museum at the Villa Atma
ul. Kasprusie 19
Karol Szymanowski (1882-1937), was amongst the greatest of Poland's composers and a longstanding resident of Zakopane. Inspired by the spirit of the highlands, he incorporated many folkloric motifs into his works. A prominent highland band were to pay tribute at his funeral at the mythic Church on the Rock in Krakow. This museum is based in the Villa Atma which was Szymanowski's home for much of the 1930's. A typical Zakopane villa, it recreates the atmosphere of the composer's days, with a range of personal belongings conjuring the presence of the great man. The museum also organizes musical events.
The Kornel Makuszynski Museum
ul. Tetmajera 15
Kornel Makuszynski (1884-1953) was a leading children's author, philanthropist and cultural critic in pre-war Poland. A much-loved figure, he eventually settled in Zakopane in 1934 where he was made an honorary citizen. This is a biographical museum, based in the house where the author lived with his wife for many years. As well as a great deal of paraphernalia related to his work, there are many of his personal belongings, including some beautiful art, some of which was created by masters such as Stanislas Wyspianski.
The Kulczycki Art Gallery
ul. Koziniec 8
Over the years the Tatra Museum has accumulated a sizable collection of art, including works by several distinguished artists. Many had close bonds with Zakopane, which was a cherished retreat for painters, writers and musicians, many of whom settled here permanently. Much of the museum's collection is not on permanent display, owing to lack of space, but parts are regularly shown here at this attractive little manor house. The museum is named after Professor Wlodzimierz Kulcycki (1862-1936) and his son Jerzy, an art historian. Together they bequeathed a priceless collection of Oriental rugs to the nation. The Gallery also possesses a large body of works by the painter Marek Zulawski.
Further Afield
The Museum of the Chocholow Uprising
Chocholow 75
In the Winter of 1846 an uprising was launched in Galicia against the Austrians - the revolt had a tragic outcome. The part that the highlanders played in the event has remained very much a part of national mythology. The Chocholow arm of the uprising was led by the local priest and a young organist. The villagers quickly overcame the Austrian defenses, but the rebellion was soon quashed and draconian measures imposed. The museum is based in a typical nineteenth century cottage, and the interiors echo the traditional style of the era. Carefully woven into each room are mementos of the rebellion, as well as spotlights onto its leading characters.
Niedzica Castle
Niedzica
The collections at Niedzica cannot rival other castles such as Pieskowa Skala, or unsurprisingly, Wawel. But it is still a great place to visit. And of course, it is the whole package - castle, views, interiors and all, that makes it worthwhile. Inside this rambling gothic stronghold, you'll find a number of collections to explore. Aristocratic furnishings and portraits, a chronicle of the castle's history, and exhibits on local flora and fauna are all to be found. There is also a charming museum of Spisz folk culture just over the road in a marvelous eighteenth century barn. There you'll discover all kinds of enchanting nic-nacs from clocks to chests to costumes themselves. A little jewel for folk enthusiasts.
Lopuszna Manor
Lopuszna
Lopuszna is worth stopping at if you are in the area. It lies a little to the north of Czorsztyn lake. The village has a typical Polish manor house (so many of which were destroyed after the war), a beguiling little cottage - built by one Jan Klamerus 'The Owl' in 1887, as well as an attractive example of the Podhale wooden churches. The manor itself, once owned by the artistic Tetmajer family, now houses a small museum concerned with the life of the gentry.
Comments
You are right! Zakopane is a untypical and beautiful place where you can : do some sport(some many kinds: biking, climbing, hiking, nordic walking...), relax(in so many ways:spa, massage,lying in grass in top of mountain...),discover and visit(so many places: museums, churches, untypical cemetaries, natural mountain caves, Tatra mountains...), eat drink and party(in so many locations in so many ways: bars, restaurants,tea and coffee bar, disco of highlander or modern style, classic ...).A city with a lot of charm more specially in winter and spring/summer.Welcome to Zakopane.Staff of Ogrodygorskie residence (of comfy apartments in Zakopane)
Reply
such a beautiful place and soooooo many hot guys
Reply
Houses like that are highly expensive! Listed buildings... Better to build a house yourself, in a outlying spot...
Reply
if theres any house in zxakopane also with a nice garden please let me know l would like to buy for the family zakopane has beenn in the family well over 100 years old
Reply
if theres any houses up for sale at a good price let me know l am thinking of buying for the family most be a big nice woooden house thank you.zakopane has been aprt of the family over 100 years
Reply
If you want to see sometjing crazy - I recommend the Wladyslaw Hasior Gallery...
Reply
lthought that zakopane is a very beautifil place when l as there friday the 15th of augest 2008 until the 18th
Reply