Shops and shopping...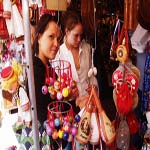 With Croatia primed for accession to the EU and incomes on the rise, Croatians are warming up to the task of competing with their European bed-fellows by boosting their spending and heating up their flexible friends with increasing regularity. Designer chic and global superbrands are found in equal measures in modern shopping plazas that would have Communist rule-makers rolling in their graves. Croatia is on the up and Zagreb leads the way commercially. Whether it be luxury goods in trendy boutiques or handmade goods from the market grannies, you wont find Zagreb lacking.
See on Map
Looking for something specific?
Top rated shopping in Zagreb