Bed Down in the Old Town...
Poland's great undiscovered treasure - Wroclaw - is unlikely to remain a virgin booty (so to speak!) for very much longer. With budget airlines like Ryanair and Wizz lining up to fly tourists into town, we predict the race will be on every peak season to grab the best rooms in the city. Read on to get ahead of the competition!
Still relatively new to the tourist game, on the one hand Wroclaw is refreshing unspoilt by the ravages of stag groups, gargantuan coach parties and the all other negative impacts that tourism can bring; but on the flipside it's facilities for hosting guests aren't as developed as many other East European hotspots either. The number of hotels in Krakow for example far exceeds that in Wroclaw, with the number of rooms available in Poland's second city calculated as close to ten times the number as in the Lower Silesian capital!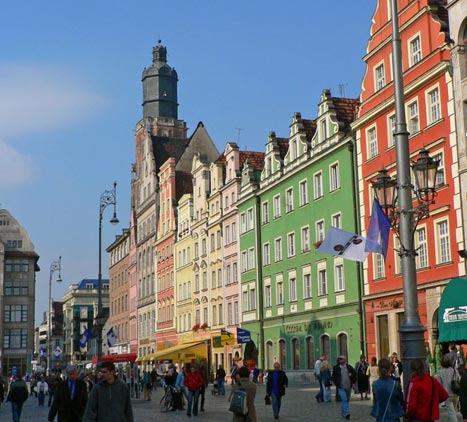 With that in mind, if you're planning to pay a trip to Wroclaw, it's best to do some forward thinking when it comes to booking a hotel. Wroclaw has already become a top tourist destination for Germans (who remember the city's days as the German town of Breslau) and is also one of Poland's fastest growing business hubs. You don't want to be left homeless and wandering the streets because Poland's Avian Vomitoligists have called an AGM...
So where is best to book? As with many European locations, Wroclaw's Old Town is not only the cultural and historical heart of the city but is also the centre of the action when it comes to dining out and nightlife. In or around the Old Town is where you find the lion's share of Wroclaw's treasures and the smart tourist will start (and finish) their search for accommodation here. Thankfully a number of Wroclaw's best hotels have managed to grab premier locations in the centre of the action, and reserving a room in one of them will help you make the most of your time in town.
A perenially popular choice with Wroclaw visitors is the Art Hotel on Kielbasnicza street. It's not quite the Ritz but it's elegant, very central, reasonably priced and gets top marks for service. All in all you couldn't ask for much more. Meanwhile on the very same street as the Art Hotel you'll find the Patio Hotel which will offer you excellent value for money, without compromising on comfort or service. This mid-range gem can be a great option similarly as Centrum Dikul Hotel and Lothus Hotel!
As the city life goes on mostly in and around the Old Town, you'll find here a number of other Old Town hotels competing for your custom. The Europeum Hotel is bright, modern and comfortable, Hotel Monopol is a slice of 5 star art noveau history, you'll find the delightful comforts of The Granary - La Suite Hotel. Finally Hotel Tumski and Hotel Jana Pawla II must be considered - if only for its amazing location on Wroclaw's islands.
Of course a town that's growing as quickly as Wroclaw doesn't escape the eyes of hotel developers for long and, in addition to the smaller hotels, a number of big chains have flung their doors open in the Old Town. Although primarily designed to cater for the men and women in suits, international levels of conveniences and service make them viable options for tourists too - even if they sometimes lack the character of smaller, independent run hotels. The Qubus Hotel, the Radisson Blu, Sofitel, and the Mercure Panorama all make for a great stay, and the latter is something of a Wroclaw landmark, with its trademark glass panelling.
Finally accommodation in Wroclaw's Old Town, needn't be all about swanky receptions, room service and bell boys. If you prefer the more homely feel of staying in apartments, the city offers a couple of options. Check out Exclusive Apartments or Wroclaw Accomodation, with their elegant rooms, mod-cons and practical kitchen and bathroom facilities. Meanwhile a number of well-located hostels in Wroclaw are opening up if you'd rather save a few zloty for some piwo.
So there you have it! If you're staying in Wroclaw for pleasure the Old Town is definitely the place to be. Remember, time saved travelling to and from your hotel is time much better spent in one of the city's fantastic bars, restaurants or nightclubs! For a full list of hotels in Wroclaw, including the chance to search by price range and location, head straight to our sleep page.
Comments
Nice city, charming and friendly with lots of history behind. We will come back for sure
Reply
We stayed in the apartment on the Old Town and that was a real fun to all of us! Apartment was huge, modern and comfortable. Was a really good base for 5 nights we spent in Wroclaw!
Reply
Wroclaw Old Town is lovely, romantic and full of life!
Reply
We spent our previous Xmas in Wroclaw. We chose a lovely apartment close to Rynek and we were absolutely delighted. We will do the same this year!
Reply
Spent a week here - the old town is lovely!
Reply
Thanks for the advice!
Reply
If you stay in Wroclaw you should definitely choose the hotel located within the Old Town. Charming location with all the restaurants and caffes around!
Reply
Interesting info. I'll surely be booking a room in an Old Town hotel this summer.
Reply
I just hope that there will be enough hotels in Wroclaw for Euro 2012! if not it's going to be a tight squeeze...
Reply
It is difficult to get a hotel room here in the height of the summer, so if you rock up without having booked in advance, beware!
Reply
THanks, some great accommodation recommendations here. The hotels in Wroclaw are well priced i've found so i'll be back soon for sure
Reply