Expats in Wroclaw
As opportunities continue to open up and expand in the centre of New Europe, an increasing number of foreigners have arrived in Wroclaw to seek fame and fortune, new experiences and adventure. From the humble English teacher looking to learn the language and get to grips with Polish culture, to the quick-thinking businessman with the glint of gold in his eye, Wroclaw's expat community are a colourful mix of characters, enjoying their new lives in Poland. With an ever increasing number of multinational companies setting up shop here, there has also been a huge increase in salaried workers in Wroclaw plying their trades for the likes of LG Philips, Toyota, Whirlpool and Google.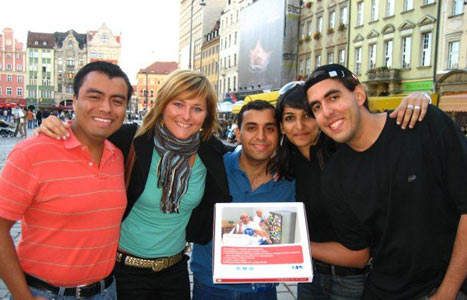 Above: Foreigners relaxing on Wroclaw's Market Square
Expat Life in Wroclaw
A vibrant academic and business hub, Wroclaw may have a relatively small population of around 640,000 people, but there's certainly plenty going on for the city's residents to get to grips with. The theatre may be the preserve of Polish speakers, but a visit to the Wroclaw Opera House can be enjoyed by all, and film-wise most of the city's cinemas screen films in their original language - so movie buffs can keep up with the latest releases. A host of modern art museums and cultural centres exist, the big players being BWA, Impart and Wro Art Centre, and add to them a score of scintillating festivals and you've got a lively cultural programme. Our events calendar is the best way to stay in the know in Wro!
As far as eating and drinking are concerned, Wroclaw's ever expanding gastronomical realm is rich in treasures. Whilst Polish cuisine is of course the most prevalent, Wroclaw is a cosmopolitan place and that is reflected by the large number of Italian, Korean and Japanese restaurants (patronised by the large number of Italian, Korean and Japanese expatriots). In addition swanky bars are catering to the often fancier tastes of foreigners. Check out our nightlife page for more info.
Other forms of entertainment in Wroclaw come is a diverse manner of shapes and sizes. Get out and about in Szczytnicki Park and the Japanese Gardens, admire the flowers in the Botanical Gardens, take a walk on the islands and the banks of the Oder, head over to Wroclaw zoo for a chat with the chimpanzees or get active with golf, go-karting or a swim at the aquapark. There's plenty more to do besides and if you're considering packing your suitcases for Poland then you needn't worry about becoming bored!
Settling in
Relocating to a foreign country can be a bit tricky to say the least, and for a flying start you may well want to get in contact with regional experts: PRO - Polish relocation office. These guys and girls can offer you all kind of advice and services, from helping you find a flat to navigating the nuances of Polish bureaucracy. When looking into moving your belongings to Wroclaw, you may want to look into international moving from Unigroup, who are experts in intercontinental moves.

Of course nothing helps you settle in to a new city and a new life faster than making new friends. Contacting The International Friends of Wroclaw is a great way to start on this front and with well over a hundred families representing twenty five different nationalities, the chances are you'll be able to meet someone from your part of the world. For info about the city in English, best make Wroclaw Life your first point of call. And if you really can't find what you're searching for why not post a message on our forum... The answer is out there somewhere!
Working in Wroclaw
Many expats who choose to live in Wroclaw work on a freelancing basis, but not everyone likes to be isolated at home all the time! Here are a few choices for "coworking" offices where you can rent out a desk and meet some new people!

Cocobar Coworking Place & Community
Cocobar is Wroclaw's premier option for freelance professionals looking for a modern, well-equipped, and central coworking space.
www.cocobar.pl
Comments
David from United Kingdom Reply Apr 23rd, 2016
Hi all, I'm considering a move to teach in a primary school in Wroclaw. I get good vibes, but can I save?? I currently live in the middle-east and contemplating higher salary vs good living in beautiful Poland! The proposed salary will be 6000 zl after tax. Advice would be appreciated
Imogen from United Kingdom Reply May 10th, 2013
Agreed with James below! As a new person to the city the website is great.
James from United Kingdom Reply Apr 24th, 2013
There are loads of great things going on in the expat community right now - take wroclawuncut.com for instance. It's updated several times a week and is really good for knowing what's going on in the city.
Polish from Poland Reply Mar 26th, 2013
Here is a website for all people interested in learning Polish http://polish.study-time.org/
Junaid from Pakistan Reply Feb 28th, 2013
I am thinking of moving to Wroclaw as a system administrator for IBM. To be more precise as an AIX system Administrator. Can anyone give me an idea about the monthly expected salary or pay that I should expect after tax deductions ? Please an early reply would be highly appreciated.
Salman from Pakistan Mar 9th, 2014
If you found out salary can u tell me also?
Agata from Poland Feb 15th, 2015
This question has been asked long time ago but maybe someone could still make a use from the answer. The salery in this field in IBM or similar company would be about 6000-8000 PLN per month depending on experience (which is around 1800-2200$) per month after all taxes. For Poland it is a really good salery (as minimum wage is around 400$ and the average salery in town like Wrocław is probably between 700-900$ per month after taxes)
IanM from Poland Reply Apr 1st, 2011
As an attempt to help English language speakers to acclimatise in Wrocław (and Poland generally) I have started writing a blog: wroclawworkshops.blogspot.com My recent articles have been about 'Polish small-talk', 'Bar Mleczny ('Milk Bars') and 'How Poland is seen by others')
Joel from United States Reply Feb 19th, 2011
Here is also a link to the expats on fb: http://www.facebook.com/wroclawlife#!/group.php?gid=25964246149
Paul from Norway Reply Dec 7th, 2010
Depend on your experience and expectations - it is not that easy but not impossible - both freelance and full time.
Mark from United Kingdom Reply Nov 17th, 2010
Hi, I am currently in Wroclaw a lovely and vibrant city, i wondered what th chances would be of me finding a job here in Poland ??
Miguel from Spain Reply Nov 8th, 2010
Best place for all foreigners - Manana Cafe!
Ana Vilar from Portugal Reply Oct 2nd, 2010
Hi. I am looking for some relatives who lived in Breslau/Wroclaw during WWII. Can you help me, indicating me were I can find information on people living there at that time? Thank you. Ana
Delvanzan from Poland Reply Jun 25th, 2010
Join Wroclaw Expats also on Facebook http://www.facebook.com/home.php?#!/group.php?gid=25964246149
chris from United States Reply Jun 6th, 2010
Nice ;-) You can also meet some ppl from around the world on http://wroclaw.sense-of.com/
Peter from United Kingdom Reply Nov 15th, 2008
Wroclaw is a great city to live and work in as an expat!