Join our team!
Wroclaw Life is always on the look out for talented and motivated people to join our team and help us achieve our business goals. Read below for some of our current opportunities.
Opportunities across Europe for budding entrepreneurs!
We are currently on the look out for talented individuals to join our teams across Europe. Wroclaw Life is part of a much bigger network across Europe that stretches all the way from Barcelona to Zagreb! If you're interested in working for us in one of our cities (check out the interactive map at the top right-hand corner of the page to see them), then get in touch. Send an email with your CV and covering letter to our Group Sales Director at sales@wroclaw-life.com.
Do you have what it takes?!? Brilliant writers wanted now!
Lifeboat Limited, a leading internet and print guides publisher, is looking for outstanding writers to join its team! Do you have what it takes? Are you intelligent, witty, love travelling and know how to enthuse others with your writing style? Do you know Central and Eastern European Cities and would like to get to know them better? We are looking for you! You would write extensively about travel for our city travel sites, as well as writing and proofreading for our other partner publications. Assignments are currently available in Cracow, Warsaw and Berlin as well as temporary assignments in other cities in our network. Are you up to the challenge of working with a dynamic writing team producing travel guides that are read by millions? If yes, send your CV, a covering letter (in English) and a short sample (500 words or less) of your writing style to info@wroclaw-life.com More opportunities below picture...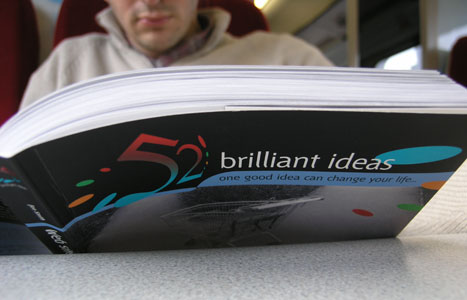 Are you a Sales Superstar?!? Sales people wanted!
Wroclaw's top Internet and print guide is always on the look out for super city sales people! Do you have what it takes? Are you energetic, confident, persuasive and hard working? Do you also love the city of Wroclaw? Yes?!? Then we want to hear from you! Your job would be to work with businesses and clients in Wroclaw and to sell advertising space to them across our two main mediums - print and online. You would be responsible for building a client base and maintaining our reputation in the city, which will include distributing our printed guides! In return you will earn commission on every sale that you make and be part of one of Wroclaw's most exciting projects! Successful candidates will speak Polish fluently and have basic communication in written and spoken English. Get aboard today! Send your CV and a covering letter (in English) about why you think you're suitable for the job to sales@wroclaw-life.com
Comments
Caireen from United Kingdom Reply Nov 16th, 2014
Hello, my name is Caireen and I am from Scotland. I am looking into moving to Wroclaw in May 2015 after I finish my International Tourism Management Degree. I currently speak very little Polish however I am hoping my time in Poland will rectify that. I am looking for a job within the city that an English speaker could work towards.
Guest Nov 16th, 2014
Hi Caireen, Thanks for getting in touch, please contact Mark Bradshaw at mark@local-life.com.
Dominik from United Kingdom Reply Jun 1st, 2014
Dear All, I'm looking to move permanent back to Wroclaw, currently I live in London for the past 10 years doing senior concierge job in one of top residential developments in Kensington, Wycombe Square, I work 4 on 4 off shift patterns and often going home to Wroclaw where my family live. I speak fluent English and Polish. I would be great full for jobs suggestions.
Aneta from Poland Reply Oct 31st, 2013
Hello, So here I am - moved to Wroclaw since always wanted to live in Poland. I was born in Lithuania, lived almost 9 years in USA and another 4 in UK. I speak fluently in Polish, Lithuanian, Russian and English languages. Would love to meet new people and would welcome suggestions about interesting job opportunities! Cheers
Michael from Australia Reply Jul 30th, 2012
G'Day, my name is Michael and I am an Australian who has just moved to beautiful Wroclaw. I moved from Australia to London 2 years ago in order to travel Europe and experience life overseas. Fate has now brought me to Wroclaw! I have been here for just under a month and I am looking for a job. I am currently doing a TEFL course which I will complete by the end of August. I have a strong sales and customer service background but I am willing to try anything new. Any help or suggestions will be greatly appreciated.
Beata Aksakal from United States Reply Mar 28th, 2012
Hi, my name is Beata. I was born in Wroclaw. I used to live in London for almost 15 years, 1 and half year in Spain and now I live in Italy for the last 4 years running my own business called Calabrian Invest. I am thinking of relocating either back to London or to Wroclaw. Before I undertake any decision – I need to know what is the current situation with work in both of those cities. I have been working with English speaking clients for a number of years and I have a great experience in sales, customer service, listening and talking to people, running meetings, exhibitions and small conferences, training staff and coaching and more. Please contact me should you have any advice in regards to jobs for English/Polish speaking people. I look forward to hearing from you. Thank you, Beata
Matt from Poland Reply Nov 3rd, 2011
Hi Bridget, can you make me know more about your job proposal? I lived 12 years in Italy, I'm 21 years old and I speak fluently english, know something of French, have a mothertongue knowledge in Italian and I'm learning polish right now...Feel free to e-mail me at matteo90.caracciolo@libero.it
David Johnson from United Kingdom Reply Oct 7th, 2011
Hi, David here, from England. I am living in Legnica, about 60 km away from Wroclaw. I am looking for work in Wroclaw, or surrounding areas. I am interested in driving, teaching the English language, as I am fully TEFL qualified. I am also qualified in I.T, programming, C,C++, Visual Basic, VBA for applcations, Oracle, Java, Java Script, Client server set up and administration. I am also highly experienced in Data Base analysis, design,process documentation programming and implementation, Software constructs and tools. Also the automation of manual process's with organisation's, with I.T, whilst saving organisation's many thousands of pounds/euros/zloty. I am not type casted to I.T, as I am experienced and more than capable in many other areas of employment, e.g advertising, sales and more. Contact holmofrur@gmail.com for job offers, or regarding availability. Thankyou. Dzienkuje.
Paul from Poland Reply Oct 6th, 2011
Hi, I have just moved to Wroclaw and am looking for to find work have much experience in various fields ie Sales marketing & logistics. having lived in Holland for the last 20 years I speak fluent English , Dutch and a little German. any advise or tips would be welcome
Ciprian from Romania Reply Jan 12th, 2011
Hello, my name is Ciprian. I'm from Romania, but my goal in Europe map is this beautiful country, Poland. I'd like to ask if anybody could help me to find job offers, which would be apropriate for me. I started 4 years ago to work in banking field (customer service and sales), I'm very open minded person and I'm ready for some changes. I speak English, Spanish and Romanian of course. Thank You everybody
Mick Clancy from Poland Reply Nov 23rd, 2010
Hi Bridget My name is Mick, I am Irish I also live very close to Magnolia Park, would you be intrested in meeting up for a coffee? I look foward to hearing from you. Regards. Mick
Alex from Ukraine Reply Aug 19th, 2010
The city is awesome! I love it! Want to work and live here. I'm enjoying Wroclaw for couple days already and want to stay. If anyone can offer any good job, will be happy to review proposition.
nicolas from France Reply May 20th, 2010
Bridget, I'm interested in your job offer. I'm currently looking for a job now in Wroclaw, is it possible to get more informations about such job?
bridget from United Kingdom Reply May 2nd, 2010
i am looking for someone to do a small job for me in wroclaw. in return you get to live in a very nice modern appartment, near the magnolia park. would sort someone who want to learn more english.
Petar Ivanov from Bulgaria Reply Aug 25th, 2009
Wroclaw is a very nice city with its unique historic and cultural heritage and that's why is defined as THE PLACE OF MEETINGs in the heart of Europe. I liked it very much as I lived in the city for 2 months. The best place fo cultural events and international business where people realize their dreams in constructive dialog and co-operation. This is the best place for presentation meetings between East and West Eropean economics, cultures and just ordinary people having fun on a vocation in Wroclaw. I love this city. I hope I could visit it soon again.