The Royal Baths
The Lazienki area, whose jewel in the crown is the exquisite 'Palace on the Water', has provided a leafy retreat from the hubbub of Warsaw since time immemorial. During the renaissance there was a zoological garden here, with all manner of wild beasts roaming about, whilst later, during the Enlightenment, a large stretch was remodelled with gardens in the English style.
Lazienki, which means 'the baths', takes its name from the lavish private bathing house that the aristocrat Stanislas Lubomirski established here in 1683. It was taken over and remodelled by Poland's last king, Stanislas Poniatowski (r.1764-95) and hence known as the Palace on the Water.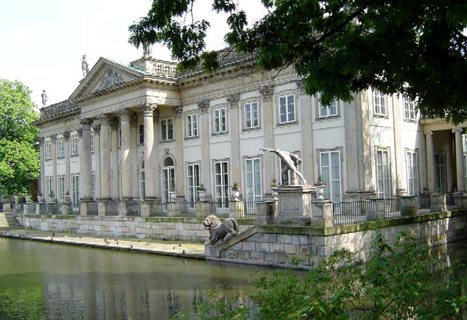 Both this palace and the larger, baroque Ujazdowski castle, served as summer retreats for monarchs. The former still retains much of the magic from the Poniatowski era and the delightful interiors can be visited throughout the year. The park around it is dotted with charming little follies - many of the smaller residences in the area were given to the king's favourites - he never married but he maintained a good number of mistresses.
The larger Ujazdowski Castle suffered worse damage than the Palace on the Water. However it remains an interesting place to visit, not just for its arresting location, but also as it houses Poland's best centre of contemporary art. If you can't stand modern art you can still console yourself with the fine view!
The area's main thoroughfare is Ujazdowski avenue, which begins with the domed Church of St. Alexander. The avenue remains a highly desirable area to set up shop and many of the old aristocratic villas are now inhabited by foreign embassies and government offices.
Comments
Lazienki Park is one of the most beautiful parks in Europe. A welcome respite from the rushed life of Warsaw. The park takes on different characteristics with the seasons. My favourite being in Winter. Check out the wildlife in the park. Squirrels, peacocks, giant carp in the lake and I even saw deer wandering around. An amazing park.
Reply
Lazienki Park's beauty is such a parallel to the dark, attempted commercialisation of Warsawa's city centre. One thing i giggle about is the majesty of Chopin's monument contrasted with the peculiar and very large Palm Tree placed in the middle of the busiest road in central Warsawa (near Palac Kultury) Two key places to visit in Warsawa: Lazienki Park and Stare Miasto, if they do not make you appreciate culture, heritage and history then nothing will!
Reply
I would like to obtain a Chopin monument photo at Lazienki Park. Will you help me? I tanhk you very much. Claudio
Reply
this is one of my fave places to visit when i'm in Warsaw. i never tire of walking through the peaceful greenery, or riding smoothly in the dragon boat. Swietne miejsce!!!
Reply