The Gastronomic Galaxy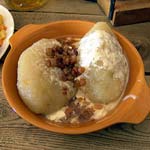 Gone are the days when travelling to the east meant terrible food in sinister surroundings. Lithuania has a rich culinary tradition, and with the return of the free market, tasty food has come back to the table. Sampling the local classics (like these bad boys on the right) is a must, but variety is the spice of life dear Watson, and the good news is that more and more international restaurants are joining the throng. Decent French and Italian numbers can be enjoyed, and you can even relish an Indian entree these days.
For something completely different, you can now also eat with a local cook at their own home in Vilnius !
See on Map
Looking for something specific?
Top rated restaurants in Vilnius