Vilnius Travel Tips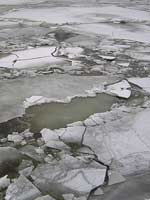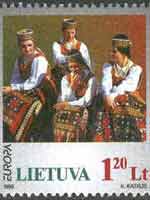 Bear in mind that winters in this neck of the woods are decidedly chilly to say the least. Blankets of snow make for a wonderfully romantic backdrop, but to make sure you're praising rather than damning the whims of Mother Nature, don't forget to bring warm clothes.
Remember to always call a cab beforehand, especially if you're travelling substantial distances - it's a good deal cheaper to book in advance. One option is Ekipasaz (tel: 1446). They may not be able to do an Al Pacino impression, but they do at least speak English, so you won't be talking gobbledygook for half an hour.
Which brings us neatly on to phonecards. Coins are a thing of the past when it comes to calling. Pick up a card from any of the Lietevos Spauda kiosks at the airport, the train and bus stations, as well as post offices in town. Taksofonas!
As always, a few phrases in the local lingo will always work well as an ice-breaker.
You'll be cursing those charming cobbles if you're sporting a pair of saucy high heels. So remember to pack a pair of deeply uncool 'sensible shoes.' You never know, green flash became super hip, perhaps you'll start a new fashion of nerdy brands...
If you're driving your own vehicle in Lithuania, and a gremlin sabotages the system in some rural hideaway, Altas Assistance can come to the rescue. They're an established crew, and they are used to driving in white knight style to sort out technical probs (www.altas.lt)
Vilnius is deservedly famous as a city of the baroque, so don't miss the chance to explore the churches, which can give many an Italian city a run for their money.
There may not be much left of the Higher Castle, but the view from the top is well worth the climb regardless. And of course, if you don't want to climb, you can take the sleek new funicular and arrive there feeling as composed as a king.
Some of Vilnius's greatest treasures are to be found in quiet corners. Sleepy courtyards specked with wildflowers are classic Vilnius charms. Provided you're not a group of wailing nutters, no one will mind if you quietly pop into these little nooks and soak up the atmosphere.
There's plenty to toast in Vilnius, and if you find yourself raising a glass with a local, always remember to look in the eye as you make the toast. Chivalry and superstition require it - i sveikata!
Comments
Petris, thanks for a nice post about Vilnius, my hometown. However, I would like to comment one of your statements. The number beggars in Vilnius have nothing to do with a financial crisis. Yes, the crisis struck Lithuania hardly, but it almost did not influence the number of homeless people. In fact, most of the beggars in the centre of the city make a lot of money from kind foreign tourists like you. I recommend not to give them anything and simply walk away. Trust me, the ones you see near the cathedrals might have more income than the average tourist... Oh, the post of Anonymous is so ridiculous it is not even worth to comment it.
Reply
@ Anonymous United States Dec.04.2007 Stop watching movies or reading bullshits! I just came back from Vilnius and I wish I feel as safe in my own country! Lithuanian people are friendly and peacefull!
Reply
@ Anonymous United States Dec.04.2007 : That you did not sign your comment inculding your name tells me more as enough. You have never been in Vilnius or you are talking bullshit! I travel since 2004 often to Vilnius and even in the most "dangerous" bus, the number 2, I never have seen one of the things you are talking about. The tourist guides are great and polite, the people friendly. Vilnius is even more safe as Amsterdam for a tourist. My tips for visitors of Vilnius: If you go out, have dinner at one of the famous restorana's like Cili, the Japanese restaurana in shoppingcenter Panorama, visit Akropolis, Europe's biggest shoppingmall, over 9 square KM of shops, tanningcenter, spa, restaurants and much, much more. If you take dinner at Mambo...ask for the special taxi card, it gives 10 % discount on most taxi's. After going out....do not go by feet to the hotel or apartment if it is further as 2 km, call a cab ( 1800 or 1440 ). And final tip: Give some coins to the homeless people, special since the financal crisis hitted the country very hard there are a lot of homeless people in the city. If one of them smells to alcohol, just do not give money but biuy them some food;)
Reply
Wake up dude. What is this nonsense you are talking about? Lithuania is lovely and noone wanted to traffic me while I was there.
Reply
Great site, neat and effective, quick question: I'm a black guy how safe is it for me in Vilnius? Im so intrigued by eastern europe, fascinated actually but ive heard terrible stories, let me know via email please, speaktrewth@yahoo.com
Reply
Vilnius is riddled in discos, restaurants, and most public places with human trafficking recruiters. If you don't go along with them they harass you aggressively. Foreigners are the target of the local mafia involved in human trafficking because they want our money. If you show the least bit of tendency to side with the law or even just refuse to participate in trafficking they will come after you in very aggressive ways. I got my eye poked out by one of them and I am very angry about it. Forget it if you are a member of law enforcement or just an upstanding citizen who reports crime; they might try to kill you. I don't know who they think they are kidding. Americans and other wealthy travellers will not tolerate this type of behavior by anyone. I recommend that Americans and all English speaking individuals boycott Lithuanaia for foreign travel of any kind because of the high rate of violence associated with human trafficking in the country.
Reply