Cafes, Bars and Clubs...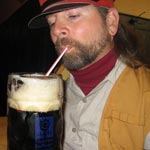 Vienna's cafes have become the stuff of legend, with their writers, eccentrics and Shakespearean feuds over stolen cake recipes. But going out is not only confined to sweet salvation. Far from it. Vienna has a vibrant nightlife - the city has spawned some of the hippest sounds on the European club scene of the last decade. So prepare for some surprises. Meanwhile, for more sedentary adventures - and Vienna is the king of laidback - beer is always infinitely more appealing when served in the glorious stein format, as compared to the dull pint glasses of the UK. Last but not least, the capital is peppered with smooth bars to sip cocktails and sample the vastly underrated world of Austrian wine. Enjoy!
See on Map
Looking for something specific?
Top rated pubs in Vienna