Ultravox Vienna
Besides attempting to ride his grandparents dog Cosmo like a horse, our resident pop pundit counts Ultravox's 'Vienna' as amongst his most vivid childhood memories. The track alone was a masterpiece - the video was the icing on the cake. And what a cake...! In this online tribute, we're going to take you back to a time when it was perfectly normal for blokes to wear streaks of mascara and for girls to sport militant shoulder pads. It was a curious age - the age of those mysterious fellows, 'The New Romantics'...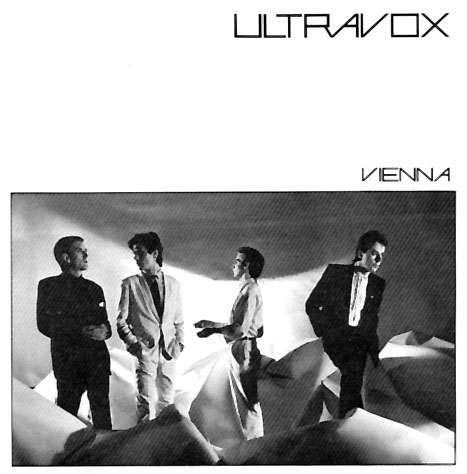 Vienna: Legend and Reality
The haunting synth intro, the icy drum that cuts like a druid's sickle - it couldn't really get much better..... But then of course it does get better. A moustachioed Midge Ure steps out across a misty cobbled plaza, and that gloriously retro bass-line kicks in: Bum bum. Bum bum bum bum. Hang on, that doesn't sound quite right. Dum dum. Dum dum dum dum: 'Walked in the cold air.....'
Vienna was one of the biggest global hits of the 1980's - cruelly kept from the UK top-spot by dastardly Joe Dolce and his one-hit wonder 'Shaddap you Face' (a painful blow to bear for Midge and his musketeers). But posterity has favoured Ultravox, and even as early as 1981, 'Vienna' was voted British single of the year. Then there was the video, with it's fantastically weird ballroom shenanigans - the vampiric femmes fatales, the mischievous tarantulas, and Monsieur Midge wandering about with his tuxedo and flaming side-burns, every inch the fin-de-siecle poet.
Both the song and the video have rightly gone down as classics. But - and perhaps this is unsurprising in the weird and wonderful world of pop - things were not always as they seemed....
For starters, there's a lot of speculation about the genesis of 'Vienna'. The most commonly accepted line is that inspiration came from Carol Reed's noirish film classic, The Third Man. Some of the lyrics do appear to reflect this. However, in the superbly collated Ultravox: The Story, percussionist Warren Cann reveals that the first mix came out rather quicker than some of us might imagine:
"I had a drum machine pattern in mind that I'd wanted to do something with and played that. To paraphrase myself, I said something like, "What about this, then?" and began the "Vienna" rhythm.... It all clicked in a few hours, and we ironed out the rough spots the next day - a hit a day keeps the dole away!"
The video also saw some lightning improvisation. The last section of the film shows a melancholic Midge, singing - appropriately enough - by the unmistakable gothic spires of Vienna's St. Stephens Cathedral. But again, as Warren wryly recalls, the lion's share of the vid was shot somewhat closer to home. As it turns out, the record company was at loggerheads with the band as the execs had no faith in the tune as a single:
"Naturally, they thought it was far too long at six minutes, too weird for a Top 30 chart hit, and too depressing and too slow," Warren muses, "other than that, they liked it."
Faced with having to stump up the costs for the vid themselves, the boys settled on some hasty improvisation. As a result, Vienna's cobbled grandeur was recreated in that most Austrian of nooks - London's Covent Garden. Likewise, the salon scenes (in which the band were genuinely sozzled) were shot in a swish London apartment.
Of course, as we all know now, the record execs were proved heinously wrong, and 'Vienna' became a worldwide smash. Eating a sizable portion of humble pie, the bosses backtracked and paid for the video.
One country where the tune was especially big was Japan, although as it turned out, something got a touch lost in translation on the lyrics front. The band didn't make a habit of printing lyrics with their albums, but they were happy enough to let the Japanese have a crack. This caused immense amusement when it emerged that the Japanese transcriber had taken a wrong turning somewhere along the way - Midge's romantic ode now included some rather unexpected lines about picking up a takeaway dinner.
But that's enough for now, save for our wish that all members of the band are dubbed Lords of the Realm for their musical services to humanity. Long Live Ultravox!
** The two quotes in this article are from Ultravox: The Story, superbly compiled by Jonas Warstad. Check Ultravox's Official page for more info.
Comments
Albina from United Kingdom Reply Oct 5th, 2010
I love Vienna and I can't believe it was beaten by Reneé and Renato!!
Jamie from United Kingdom Reply Aug 31st, 2010
Ultravox were / are awesome! We've seen a lot of 80's bands have a second wind of a career, and I think the same could happen to Ultravox, esp if some remixes get picked up on the dance circuit. Some of those bass lines could be awesome material!
coby from United States Reply Apr 21st, 2009
yeah, shane, the drum and bass remix was AWESOME!! i have it on tape in a box somewhere.
Shane from United Kingdom Reply Feb 13th, 2009
Ahhhhhhhhhhh Viennaaaaaaa!!!!! Love it. Drum n bass remix anyone?!
Jim from United States Reply Dec 1st, 2008
Ultravox are reforming for the 30th anniversary of their Vienna album. The band is going on tour - first concerts since 1985!!! A new album...? We'll have to wait and see!
fredrik from Sweden Reply Nov 13th, 2008
Ultravox rules!!! I'm going to their 2009 tour!!!!!
Peter Berry-Paxton from United Kingdom Reply Oct 25th, 2008
My heroes then and still are my heroes. From the first day I heard midge's voice singing 'Vienna' was the day I fell in love with the band. I hold nearly all their records from 7" singles to CD's. Where you say, 'everyone loved Ultravox' it seems that I'm the only one left who admit it today. I could listen to the Vienna album everyday if I could, but once a month is fine for me. To me, Ultravox were the best in the 80's and were not always given the credit they all deserved for the music they made together. The sound was the best ever and they all should be knighted.
Dan Willans from United Kingdom Reply Apr 21st, 2008
Really fantastic.
Martin Smith from United States Reply Mar 12th, 2008
Well written piece. Who didn't love Ultravox?!
kirk burrows from Australia Reply Feb 13th, 2008
a fantastic single & album, i have been a great admirer of midge & ultravox for many years, i use to snap the plastic off of a safety razor & spend sometimes an hour shaving to get the perfect midge ure image, also in covent garden was a shop called flip of hollywood, a must for ultravox fans on a strict purse string,going to a nightclub was excellent, i must confess to spending many a pleasant evening with a lovely young lady thanks to sir midge, a great man and artist in every aspect, god bless him