Eating in St. Pete's...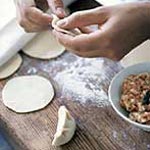 Long gone are the dark days when all you could expect from a St. Petersburg restaurant was a ladleful of pickled cabbage dished out by a surly-looking babushka. Today you'll find a wide range of places to eat, from decent budget options to lavish upmarket joints, covering a spectrum of cuisines from virtually every continent. Although the quality and choice of food continues to soar, don't be too surprised if the staff don't even pretend to care if you 'have a nice day' or not.
See on Map
Looking for something specific?
Top rated restaurants in St Petersburg