Sitges Hotels & Beds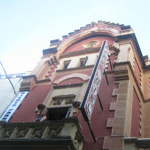 Luxury hotels, swish apartments, homely pensiones and top quality campsites... no matter what your budget or inclination Sitges has a mattress with your name on it. In fact the town boasts more than 4,500 beds for hire, approximately half of which are found under the roofs of four-star hotels. During high season, and for major events like Carnival and the Film Festival, it's well worth getting your reservation in early, but in low season there's an excellent chance of enjoying some luxury on the cheap - and chances are the weather will still be good. To search the creme-de-la-creme of Sitges hotels just check our listings (you can use the search function or check our A-Z hotel directory). Naturally being a popular gay destination you'll find plenty of hotels and apartment agencies in Sitges which cater purely for the pink market, however 99% of places to stay are gay-friendly and in most you'll find a harmonious mix of families on holiday and gay and straight couples. If you want to know what the public thought of any hotel, guest house, or apartment you can check out the latest reader reviews.
Looking for something specific?
See on Map
Top rated hotels in Sitges