Money matters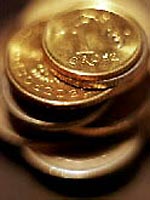 The Czech currency is called the Koruna (CZK) and the exchange rate usually sits at about 28 Korunas to 1 Euro. Goods and sundries are expensive for the Czech Republic, but cheap for people from most other countries. Meals, drinks, snacks ets also follow the same pattern, but many businesses do operate as tourist traps, charging up to (and very occasionally more than) 50CZK for a beer; locals wouldn't consider paying more than 25CZK.
One word of advice: never ever change money on the street. The odds are you're likely to have someone approach you at some point during your stay, offering you outlandishly good exchange rates: it's too good to be true and the normal scam is for them to give you notes in a similar looking currency so you don't catch on straight away.
Travellers cheques can be cashed in only a few places in the city. Your best bet in centre is the Vseobecna Uverova bank on the corner of Postova & Obchodna, which is open Monday to Friday from 9am to 4pm.
Credit cards are accepted in most places and certainly in the large stores or those of Western origin. If you're in a shop that looks a bit olde-worldy then it's a good idea to check they accept credit cards: you don't want to confuse some poor old biddy by waving some new fangled plastic thing at her do you?
One last tip: watch out for sneaky bureau de changes who surreptitiously stick a zero in where it's not meant to be, therefore cheating you out of a large chunk of change. For example, for Euros, you may well see the odd board that lists EUR 1 = 20.87773 CZK except with the "0" and "." written in tiny - almost illegible - letters, making it appear to be 28.7773. Keep on your toes for this because it's too late if you only realise after exchanging cash: after doing so you have no legal recourse for getting it back.
Comments
Is it not a safer bet to withdraw from ATM machines - at least the banks don't rip you off at silly exchange prices??
Reply
I changes money in the old republic square by a place called "Change" located at Staromestke nam. 17. These people are the biggest scam artists. Despite the posted rate of 22 KC for 1 USD, they gave me 14.74. I threatened to call the police but decided against it as I was in a hurry. I did tell them I would post it on the web. So here it is. NEVER trust the street vendors to change money. Take it from me - Jack - on June 13, 2010.
Reply
On a recent trip to Prague I was robbed by one of the money changers next to charles bridge. All outside of the kiosk was GB Pounds 32CK 0% commission I handed over cash and recieved 20CK giving him a big fat commission of almost 30% If the authorties know about this why is nothing done about it The police were not interested after I reported the incident(if it happend in thailand the tourist police would have been onto him in minutes) Let see some kind of action against these thieves who love robbing pensioners and tourists ITS YOUR COUNTRY SO STOP IT!!!!
Reply
Does the authorise money changer or banks in Prague accepts US$ for exchange to Czec currency
Reply