Information
6Info about Prague & Czech Republic
The story of Prague is no less turbulent than that of similarly large cities in Central Europe. It saw its first golden age under the rule of Charles IV in the 14th century. Prague was, at that time, the third largest city in Europe and witnessed something of an explosion in construction: the Charles University, the New Town, the Charles Bridge, and Saint Vitus Cathedral were all built during this period.
Most of the following centuries were passed in the same manner as other major central European cities i.e. in a frenzy of murder, battles, occupations, and looting: all of which has enriched the history of the place but was mighty miserable for the poor inhabitants of the time. After the German invasion Prague became the capital of Czechoslovakia, and remained relatively unscathed during the German occupation and Russian liberation. The Americans inadvertantly bombed the city in 1945, killing hundreds of residents, after somehow mistaking it for the German city of Dresden (which lies some 83 miles away).
Prague suffered in much the same way as the rest of the country during harsh Soviet-imposed Communist rule, and it was here that the Velvet Revolution was born and completed in 1989. Today, Prague is indisputably a modern European city and is becoming the capital of Central Europe. Many large companies have their regional headquarters here and the city is an enticing investment location, despite being more wealthy (and therefore expensive) than many Western counterparts.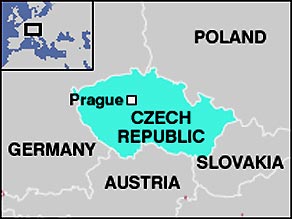 Population: 10 million Capital: Prague Major language: Czech Major religion: Christianity Life expectancy: 72 years (men), 79 years (women) Monetary unit: 1 koruna = 100 hellers Main exports: Machinery and transport equipment, foodstuffs, chemicals Internet domain: .cz International dialling code: +42
About Prague
Like most Central European countries, the Czech Republic's history is, to say the least, eventful! The modern form of the country took shape in the 9th century under the kingdom of Bohemia, the power and authority of which was undermined by numerous wars, including the Hussite wars and the Thirty Years War. Following struggles with the ruling Habsburgs (of Austria) in the 16th century, the country plunged into a dark age which was relatively quickly followed by a national revival. A compromise in 1867 led to the mammoth Austro-Hungarian Empire taking over, a state of affairs that continued until the collapse of the Habsburg empire at the end of the First World War: Czechoslovakia was born.
Life passed fairly uneventfully (apart from being forced by the allies to cede a large part of the country to Germany of course) until 1939, when Germany invaded and made the country a protectorate. There was a lively resistance movement during the war, which reached its peak in the assasination of the German governor Reinhard Heydrich; an event which had severe implications for the villagers of Lidice, which saw its entire male population killed in reprisal, and the rest of the population shipped to concentration camps.
Following "liberation" by Russia, Czechslovakia fell under their sphere of influence, becoming communist in 1945. Protests about this grew in frequency and size towards the end of the 1960's, but were brutally repressed over the course of the next two decades by way of a "normalisation" campaign.
In 1989, the Velvet Revolution took place. The spark was provided by the police when they brutally broke up a peaceful student demonstration, which led to several groups uniting to develop an organised movement - the word "Party" was intentionally avoided - campaigning for change and known as the Civic Forum. The Civic Forum quickly became very popular with the general population, and the communist party all but collapsed in on itself as a result, eventually leading to elections in 1990 - the first since 1946 - which boasted a stunning turnout of over 95%.
On the 1st of January the Czech Republic and Slovakia had a "Velvet Divorce" and went their seperate ways, creating independent republics. The Czech Republic joined the European Union on the 1st of May 2004 and goes from strength to strength.
Comments
Ernest from Czech Republic Reply Sep 15th, 2017
I have been looking to hookup for good quality weed until I met with (Primemedicoltd@gmail.com), wickr id..primemedico for real hit, stuff cool shit, i think I will place more order. Primemedicoltd@gmail.com wickr..id..primemedico whatsapp...+1, 845, -643, -6378
Matt from United Kingdom Reply May 27th, 2010
Whoever wrote the potted history of Prague needs to go back to school instead of putting garbage on the web. Prague did not become the capital of Czechoslovakia 'after the German invasion' (of 1939). It had been the capital since the creation of the Czechoslovak state in 1918. This state was broken up by the Germans into a nominally independent Slovakia (in reality a puppet state) and the so-called Protectorate of Bohemia and Moravia (the current Czech Republic). Prague remained the capital of this occupied territory. After liberation by the Russians in 1945 the newly restored Czechoslovakia did not immediately become a Communist state. That did not happen until 1948. The separation of the two constituent republic occurred in 1993 (the article doesn't make this clear)
Bob from United States Reply May 15th, 2008
Awsome!
Betty Paterson from Czech Republic Reply May 13th, 2008
Now I am in Prague and really see that it is a beautifully preserved city, rich in mystery, ghosts and legends. When I came here I enjoyed its historical monuments, castles and beautiful and diverse nature. The capital of Czech Republic is Prague, Praha (The name of the city in Czech) is known as the pearl of Europe for its beauty. And I like not only Prague, but the whole Czech Republic, I was traveling to the world famous spa town of Karlovy Vary, also known by its German name of Karlsbad (or Carlsbad in English) http://www.karlovyvary.cz/, I enjoyed International film festival there http://www.kviff.com/en/news/, it was a great experience for me. Karlovy Vary reminded me Prague with wealth of architectural forms, ranging from Romanesque and Gothic through Renaissance and Baroque to Art Nouveau, Cubism and Deconstructionist, co-exist in an unusual harmony, very beautiful and with less crowds of tourists except at the time of film festival when tourists leave Prague hotels http://www.prague-hotels.org.uk/ and go to Karlovy Vary. I also visited Kutna Hora and was really impressed by Bone Church http://www.kostnice.cz/. Can you imagine - 40,000 dead form morbidly fascinating sculptures and artwork; skeletons meticulously fashioned in 1870 by a wood carver. Prague is my favorite city in the whole world!
Amanda Morrison from United Kingdom Reply Apr 28th, 2008
Very interesting information. I think Prague is our most valuable historical city reserve. In 1992 the historical core of the city covering 866 hectares was listed in the UNESCO (see here http://whc.unesco.org/en/list/616) World Cultural and Natural Heritage Register. Prague has wonderful sightseeing, opera, restaurants & nightlife and is the most exciting city in Central Europe. Prague, ancient capital of Charles IV's Bohemian Kingdom, has played a pivotal role in the development of Central Europe since the Middle Ages. An epic history has made Prague one of the most beautiful cities in the world and today tourism is a major force. Prague is not overrun by tourism, but its effects are evident for all to see. Much of the post-communism reconstruction and regeneration of Prague has been driven by tourism, as ancient buildings have been transformed into fine restaurants and stylish hotels. Prague Tourist Information Prague tourist informationPrague tourist informationPrague tourism informationPrague tourismPrague tourism Prague visa & passports informationVisas & passports Prague tourism information: Prague is the "Jewel in the Crown" of Central Europe and tourism plays an important role. This Prague tourism guide offers useful information, including the layout of the city. Old Town Square in Prague Old Town Square in Prague Prague Tourism Information Prague, ancient capital of Charles IV's Bohemian Kingdom, has played a pivotal role in the development of Central Europe since the Middle Ages. An epic history has made Prague one of the most beautiful cities in the world and today tourism is a major force. Prague is not overrun by tourism, but its effects are evident for all to see. Much of the post-communism reconstruction and regeneration of Prague has been driven by tourism, as ancient buildings have been transformed into fine restaurants and stylish hotels. Key Prague Tourism Fact: in 1992 the entire historical centre of Prague - all 866 hectares - was listed in the UNESCO World Cultural & Natural Heritage Register. Layout of Prague's City Centre - map of Prague Prague's city centre comprises four areas, spanning both banks of the Vltava River. On one side: the Old Town (Stare Mesto) with the Old Town Square; the New Town (Nove Mesto) with Wenceslas Square; and, the Jewish Quarter (Josefov). On the other side: the Lesser Quarter (Mala Strana) which leads up to Prague Castle. The city centre has a "Prague 1" postcode. The main areas close to the city centre are: Hradcany (at the rear of Prague Castle), Vinohrady, Holesovice, Smichov, Karlin and Vysehrad. Prague Castle Prague Castle Key Prague Tourism Fact: Prague is a compact city. Stay in a hotel or apartment in Prague 1 and you can walk to all the sights and attractions. From Prague Castle on one side of the city to Wenceslas Square on the other is just a 25 minute stroll. Charles Bridge and Prague Charles Bridge and Prague Castle Prague's Most Beautiful Views Prague Castle is the premier Prague tourist attraction. Located on a hill, it offers fine views over the city. There are also excellent views from the following sights and attractions: Old Town Hall Tower, Old Town Bridge Tower, Mala Strana Bridge Tower, Petrin Observation Tower, Jindrisska Tower and Vysehrad. Tourism in Prague has encouraged several top floor restaurants to open, boasting stunning views over the city. Enjoy a spot of lunch in the sunshine, or watch the city light up at night: restaurants with city views. Prague Sights & Attractions Prague tourist guide books often use English names for famous sights. This can be confusing as maps and street signs are nearly always in Czech. The following Czech translations might be useful: Old Town = Stare Mesto Prague Castle = Prazsky Hrad Charles Bridge = Karluv Most National Theatre = Narodni Divadlo Wenceslas Square = Vaclavske Namesti Old Town Square = Staromestske Namesti Little Quarter/Lesser Town = Mala Strana Old Town Square in Prague Old Town Square in Prague Wenceslas Square Wenceslas Square in Prague More Prague Tourism Information Best Prague attractions: Prague sights & attractions Prague history: History of Prague Prague tourist information: Prague tourist information Czech Language Czech, a consonant-rich Slavic language, is one of the most difficult European languages to learn. English speakers find some sounds very hard to pronounce. Fortunately in these days of tourism and global commerce, many Czech's speak English, particularly in Prague's city centre. Among the older generation, Russian and German are fairly common. Czech Republic & the Czech People The Czech Republic has an area of 78,864 square kilometres. It borders Slovakia, Austria, Germany and Poland. The highest mountain is Snezka (1604m), the longest river is the Vltava (434km). The population is 10.3 million. Czech's belong to the West Slavic group of peoples, along with the Poles, Slovaks & Luatians. Romanies, or Gypsies, are the most conspicuous minority in Prague. They are thought to descend from Indian migrants in the 15th century. The Prague tourism and construction boom attracts migrant workers from Central & East European states, plus former Soviet block countries like the Ukraine.
Martin L from United Kingdom Reply Jan 15th, 2008
It is just a great city with a most marvellous history. If you haven't been there yet, just go!