Rock on, Prague!
While many visitors come to Prague for the culture, a musical event featuring electric guitars and lyrics about love and life can be as much a cultural experience as a classical concert in the Municipal House, at least when you're in a foreign country. Besides having a revolutionary history of rock'n'roll, a tradition started by such bands as the Plastic People of the Universe, Prague seems to be the cut-off point for touring Western bands who just can't seem to make it over to Krakow or further east (which is a shame but slowly changing). But from free Mondays to small festivals, Prague never lacks for live shows during the week, and observing the crowd bopping along to the music is enough of a cultural experience in itself. To get you straight to the rocking, the gang at Prague Life has compiled a list of the best venues, regardless of size or relative obscurity.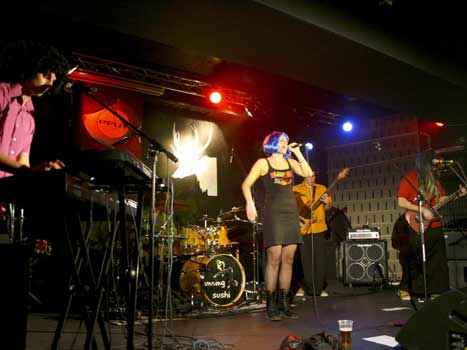 Live music venues in Prague:
Palace Akropolis
The premier venue for independent music, particularly touring bands. Think the CBGB's of Prague, but possibly with fewer drugs.
Bordo
Local favourites and an indie rock night.
Rock Cafe
Frequent free or cheap shows by great locals and a room where you can watch the band on a movie screen.
Lucerna Music Bar & Club
Rock and jazz shows plus themed parties.
Futurum Music Bar
Live locals and tourists.
Abaton
Free shows on Mondays!
Roxy
Normally a dance club, but with free live music on Mondays.
Comments
Martin from Canada Reply Jun 22nd, 2016
If you had a month plus to go to Europe to make music, would it be Berlin or Prague? Is Berlin too big to tackle in a month? Is Prague too limiting?
Jay Massey from United Kingdom Reply Mar 28th, 2016
loads not mentioned, the blues sklep, the place with the masonic club painted on the wall that has rock/metal/punk bands nearly every night(just off the main square(another cellar)
JAY LARR from United States Reply Dec 11th, 2014
After what happened with Randy Blyth of Lamb Of God, I think us western rock bands should boycott coming to Prague altogether.
Ali from Czech Republic Reply Feb 27th, 2014
There is a new place - Chicago Music Bar, right in the city centre. beautiful place for a gig!
jaqup from Czech Republic Reply Jan 3rd, 2012
http://www.kain.cz Metal, Rock, Hard Core
Joachim Reinhardt from Germany Reply Dec 29th, 2009
There`s a very good live music club missing in this list - The Vagon Music Club & Pub ! They have great cover bands as well as local bands and international artists.
Silke from Germany Reply Aug 28th, 2007
Saw some great local music at Rock Cafe - I'd recommend going there for sure! Palac Akropolis has good shows, but not so regularly, you have to time your trip so you can catch a really good act. The prices are cheap compared to Europe though.