Shops and shopping...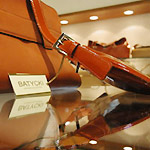 Shopping in Poznan can be quite similar to what you'd expect at home as far as high street stores and malls go but you are bound to come across a few unexpected quirks from time to time. In the week most high street shops will be open until around the 8-9pm region whilst at the weekends they will shut shortly after lunch. Larger stores and shopping centres will be open all day on Saturdays and Sundays. Walking down Polwiejska you'll find fashionable clothes and fancy footwear stores coupled with fast food outlets. At one end of Polwiejska is Stary Browar and at the other is Kupiec Poznanski, both modern shopping centres which house all types of stores.
See on Map
Looking for something specific?
Top rated shopping in Poznan