Culture...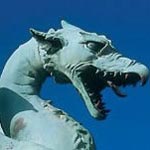 There is no question about this matter, Ljubljana is the centre of culture in Slovenia. That doesn't just mean that the city is full of drunken poets and even more drunken artists, it also means that you have at your disposal a huge selection of interesting and diverse galleries, museums, historical houses, pretty churches, and so on and so forth. Make yourself comfortable at one of the open-air cafes and let the many street-performers entertain you. Plus, don't forget the famous annual international film festival that calls Ljubljana it's home every Fall. Ljubljana is, in a word, a city of culture vultures. Wait, that's 5 words. You get our meaning.
Click here for more detailed information on Ljubljana culture, or search our culture directory for specific places.
See on Map
Looking for something specific?
Top rated culture in Ljubljana