Krakow Bars and Pubs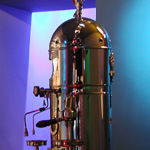 Famous for their vodkas and superb beers, Poles are not shy when it comes to the odd tot or three. As a visitor to the city, the choice is mind-boggling. Just bear in mind that for every drinking hole you find at street level, there is probably another in the basement, and a club upstairs. Even the local franchise of a famous coffee shop chain offers spirit chasers! Once you're here, just remember that the Old Town district has more bars per square metre than anywhere else in the world, so don't expect to get very far on a pub crawl. For a fuller flavour of what to expect on a night out in Krakow, check out our nightlife section with updated info on weekly parties.
Looking for something specific?
See on Map
Top rated pubs in Krakow