Rakowicki Cemetery
An afternoon at the cemetery may not sound like the jolliest option for a nice day out, but if you never quite gave up listening to The Cure, or you still have something of a soft spot for the kindly Count Dracula, then it's likely that you'll be bowled over by Rakowicki, the grandest of Cracow's necropolises.
The Poles have always had a penchant for the Gothic, and when it comes to graveyards they do it in style - melancholy is very much part of the culture.
If you're travelling through Poland on All Souls Day (November 1st) you won't be able to escape this spirit. For a week, graveyards across the country flicker with thousands of candles - quite often one grave alone will have at least a dozen candles, and travellers are confronted by seas of light.
Each candle is placed in a transparent coloured vase, which creates a magical effect when night has fallen. Driving through the countryside is like a fantastical adventure, with blazes of colour appearing at every turn.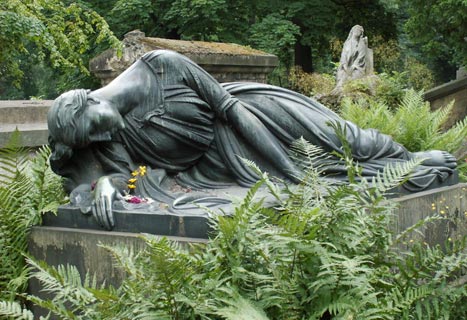 The Rakowicki cemetery in Cracow has something of the flavour of Paris's Pere Lachaise. The latter will be well known to Doors fans, as it was there that Monsieur Jim was laid to rest (and Chopin to strike a patriotic Polish note).
The cemetery was founded in 1803 and Cracow's well-to-do were simply dying to be buried there, if you can forgive the terrible pun. Mature chestnuts and elms tower above the graves, whilst the tombs themselves are replete with all kinds of sculptures, from sighing angels to imperious sphinxes.
Amongst the graves of nobles, soldiers and proud members of the bourgeousie are some golden legends in Polish culture. The tombs of the great painters Piotr Michalowski, Jozef Mehoffer and Jan Matejko (the grand old man of nineteenth centrury Polish painting) are all to be found. The latter has a magnificent classical tomb whose door appears like the portal to another world.
The femme fatale of Polish theatre Helena Modrzejewska was also laid to rest in Rakowicki, and in more recent times the avant garde theatre director Tadeusz Kantor.
Echoes of Poland's tumultuous history can be found in the inscriptions on countless tombs and grave stones. There are also individual memorials to key moments in the country's past, such as the 1831 and 1863 Uprisings against Russian occupation. Today, the monument to the victims of the Communist regime is amongst the most visited in the cemetery, and waves of candles fan out from this memorial during the All Souls Holiday.
However, in spite of all these echoes from the past you don't have to be a history buff to be inspired by the place. Scores of the tombs stand up as works of art in their own right - some are schmaltzy, some humourous and others utterly bombastic. The best have an air of enchantment about them that's thoroughly Polish.
Comments
Marlys Kasprzyk from United States Reply Oct 11th, 2017
I plan to visit Krakow next year, and believe that many of my (Kasprzyk) relatives were buried there. Is there a guide to help a person locate the actual gravesites in this large cemetery? Thanks!
Luke Gawin from United Kingdom Reply Oct 9th, 2017
My grandparents - Piotr and Maria Gawin - are buried in Rakowicki Cemetery. Their details are: Piotr Gawin b.6.7.1887 d.10..4.1946 Maria Gawin b 16.2.1880 d.23.12.1961 'Czsc Ich Pamiec' or Honour their Memory' is the inscription on the headstone. I'm visiting Krakow in late October 2017 and would love to know if i can find their grave once again. Can anyone advise me as to how to check the records?
donna from United States Reply May 14th, 2015
i'm looking for my grandparents graves. Their names are Jan and Stanislawa Mordel. If somebody finds their grave please let me know. I'm going to Europe next summer and I would like to visit the cemetery. Thanks for any help.
Olga Herdova from Slovak Republic Reply Dec 29th, 2011
I am searching for grave of Mr. Ferdynand Baumgartner, buried at Rakowicki cemetetry in year 1931, is it possible to confirm me if this grave is still existing and who is carying about it. I am searching further family connection. Thank you for your kind information, I appreciate it very much.
Marta from Poland Mar 11th, 2015
Hi, yes that grave still exist. I saw it myself. I often go to that cementery and next time I will find it again and take a photo if you wish.
Enid from Australia Reply Sep 21st, 2011
My uncle died as PoW in Poland in 1944 and is buried in the War Cemetery section. We visited his grave in July 2011 to put some West Australian dirt and wildflowers on his resting place. Thank you to the Polish people who have looked after him all those years. Rakowicki is a beautiful place and we would have liked more time to explore it.
Michael Ambridge from United Kingdom Reply Jun 10th, 2010
My uncle Sidney A S Smith is buried at rakowicki having been moved from stalag V111B . I have seen a picture of his grave on the Commonwealth graves commision website I was very grateful not to mention impressed by how well the cemetary is cared for .I intend to visit in person in the not to distant future.
John Howard from United States Reply Jan 18th, 2009
I was wondering if anyone has a photo of Helena Modjeska's monument. I would like to know if I could get someone to send me, in the regular mail, a duplicate copy of it. I need to have it scanned with certain requirements, as I plan to use it in a book. If I use it, I can give credit to the person who is able to send it to me.
Marta Mar 11th, 2015
Hi John, I am native Krakauer and I know this cementry very well. If you are intrested I can go there and take some shots. I am an artist by the way.
Sue from United States Reply Nov 1st, 2008
Maureen - your request has been answered. My husband and I just returned from a visit to the cemetery on All Saint's Day. How do I get your email to send you some photos?
maureen muir from United Kingdom Reply Sep 24th, 2008
My uncle John Mitchell private in Black Watch (royal highlanders) is buried in this cemetery plot 2.D.4. I wonder if anyone could possibly have or be able to send a photo of his grave, for this I would be very grateful.
Liz Heagney from Australia Reply May 12th, 2007
There are a number of Australian ex-Prisoners of War buried in Krakow and as I am the researcher for the Australian Ex-Prisoners of War Memorial in Ballarat, Victoria I would love to have someone there help me with the details of these Australians from WW2.