Tie the Knot, Krakow Style!
Krakow has long held a reputation as a city of romance. Home of the majestic Wawel Castle, and situated on the lovely Vistula River, in the months of spring and summer, Krakow is the perfect setting for a beautiful wedding - or even in winter if your idea of a perfect honeymoon is snowboarding in Zakopane!
But if organizing a wedding is difficult enough on its own, organizing a wedding in another country (especially one with a language as difficult as Polish) can be overwhelmingly stressful. Luckily, we at Cracow Life can help you with all the tricky details so that all you have to do is show up, put on that beautiful white dress, and enjoy the day you've been waiting for for ages!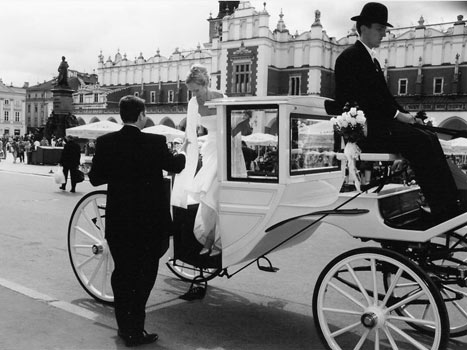 Above: Just like in the old days...
Whether you'd like a grand church wedding or a small private ceremony, a reception for half the city or just your closest friends, we can help you with booking the venue, booking the reception hall, booking a hotel in Krakow for you and your guests (or an apartment in Krakow for the in-laws and distant cousins), ordering a cake and flowers, or even organizing custom tours for you and your guests - just about anything you need! Want to go on a romantic hot air balloon ride on the Big Day? No problem!
Just send us an e-mail with your wedding dreams and we'll make them a reality!
And don't forget, Krakow is also the perfect place to stage your stag or hen night - with more bars per square metre than any city in Europe - and our friends at Crazy Stag do 'em better than anyone!
Comments
Can you get married in a Catholic Church during lent
Reply
Hello Everybody! I planned with my fiance the wedding in Sheraton Hotel in Cracow on 18/08/2018. Unfortunately we splitted and we need cancel the wedding plans... Its very pretty place, amazing food, wonderful place...It was just my dream... Any interesting? Best regards Paulina
Reply
Hi myself and my partner (Both Catholics) want to have a church wedding in Krakow on 6th March 2018 i am loooking for a wedding planer and is there going to be an issue with it being lent we are both irsh so english speaking
Reply
Hi Teresa, last month I have organized my friend's wedding. Bride is Polish but Groom is Irish and wedding day was amazing. I am able to help you with planning your wedding day in Cracow. regards
Reply
I confirm !! We had our wedding in Cracow and it was marvellous! Any time we meet our friends and fsmily members who participated in the event refer to our wedding as the best ever. I realise it may be just their courtesy but honestly it was amazing. We loved the city, the venue the wedding was held (Hotel Stary), the old church, the live band (forgot their name), the photographer David and Marry Me Studio wedding film crew who captured the entire event ( we followed Amy's recommendation). Jana check the wedding studio as they recommended us the bilingual dj who played music when food was served as I can' remind his name right now. Yeap, I strongly recommend Cracow for your wedding!
Reply
Hi Ann, I saw your comment and was wondering which church did you get married in? We both are native English speakers and are looking for church that can conduct our ceremony in English. It would be great, if you can tell me the name of it and any contacts that you have. Thank you, Katie
Reply
Hi, my fiance and I are getting married in Krakow. We gonna have a mix of German, Polish and Russian speeking guests. We don't want the typical polish wedding style music and looking for a DJ who is willing to handle song request from 4 diffrent languages. Any ideas about good dj?
Reply
Hi Jana, have you already found a good DJ? Thanks Michaela
Reply
HI ! When we were getting married in Cracow we booked the place first and the manager of the wedding venue in Cracow recommended us the wedding film crew Marry Me Studio they were based in Cracow so we could meet and discuss. I remember the name well as they helped us finding not only amazing live band but lighting company for our wedding and also one of Cracow best wedding photographers ( I think :)). It's like a chain, you find one good company and they can help you out organising your wedding even though you have no wedding planner :) So again, get Cracow wedding film studio I wrote about and they will do it for you for free, thatis how it was with me and Michael.
Reply
Hi, my fiancé is from Ireland and we're getting married in Krakow- can anybody recommend a great wedding band?? Looking for a bilingual band/dj that can keep both sides well entertained! Any suggestions greatly appreciated.
Reply
Hi My fiance and I are getting married in Krakow in September 2011. We are looking for information on Car hire and a band for the wedding. We are looking for a band/dj that will play all genres of music
Reply
My fiance and I are getting married in Krakow in July 2011. We are looking for a DJ who can speak english, announce our arrival, keep guests entertained and not take any extra cash for song requests....if you know anyone please let me know as we are now looking to use our Ipod if we can't find anyone Thanks! Rheanna
Reply
Hmmmmm. My fiancee is Polish and we're thinking of a castle in Poland. Thanks for the info, will be in touch.
Reply