Tourist Card
Slogans like 'Poland's 'cultural capital' get bandied about a lot when pundits are trying to plug Cracow. However, in this particular case, there's plenty of truth in the hype. On arriving in the city, it quickly becomes apparent that there are as many churches and museums in Krakow as there are craters on the moon. In this light, the Krakow Tourist Card is worth knowing about for all you dedicated culture vultures out there.
The Krakow Tourist Card allows you to travel at will on buses and trams across the city, as well as granting free access to over thirty of the city's museums. Prices for a two or three-day card come in at a very reasonable 100 and 120 zlotys respectively.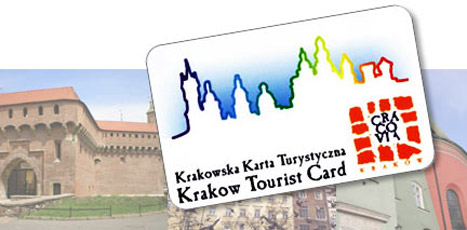 Hang on a moment I hear you say, Cracow's not the biggest city in the world, what's wrong with walking?
Well, if you're trying to see a lot you'll find that the tram is in fact incredibly handy. And besides key museums in the centre of town such as the Czartoryski, Wyspianski and the National Museum itself, the card also includes several gems that are further afield. These number such intriguing options as the Aviation Museum, Manggha, Rydlowka, the Pharmacy Under the Eagle and the fantastic Kosciuszko Mound, which offers a wonderful panorama of the city. Let's not forget about Wieliczka Salt Mine – Krakow card includes 304 bus route which leads directly to this wonderful place, with no transfer fees.
The Krakow Tourist Card also allows free access to the old Barbican as well as to the chancel of St. Mary's Church, where you can savour Veit Stoss's legendary altar-piece. The card does not allow free access to the Royal Castle itself, but of course there's no perfect happiness....
For all you wayfarers who are coming to and from the airport, you'll be pleased to know that the 208 and 292 bus routes are included in the card, as well as the night 902 route. You can actually buy the card from the stand at Balice Airport, but if you miss it first time round you can also snap one up from all the city information points across town. It's also available online at www.krakowcard.pl or in many hostels (ask at reception).
All in all, purchasing just one Krakow Card gives possibility to save up to 260 zlotys in as little as 2 or 3 days not to mention saving your precious time! What is more, the card guarantees convenient, stress- and queue-free sightseeing. Remember, Krakow is the most memorably charming when taken slow and with no rush - and that's another reason to buy Krakow Card.
Tourist Information Sukiennice (Cloth Hall), Rynek Glowny 1/3 ul. sw. Jana 2 ul. Szpitalna 25 ul. Jozefa 7.
How it works: Krakow Card is personal and not transferable. It is valid from 00.00 on the day indicated on the reverse side of the card, and expires at. 24.00 on the second or third day, dependent on the selected option.
Card issuer: City Tour Poland Sp. zoo with its headquarters at 31-109 Kraków, ul. Pilsudskiego 6/9.
Comments
I was just on their website and the card is now 100 or 120 pln to purchase July 2015
Reply
Yeah, just seen that. One heck of a price hike! Not sure anyone can do that much sightseeing in 3 days!
Reply
You can buy card only fort public transport (not for museums etc.) it's much better. And museums and other things pay separately.
Reply
Or maybe not. :-D But it's not too bad price, if I go to holiday, I don't care about few euros, it's comfort, you don't need too buying tickets. But in Prague (I'm from Prague) you can buy 24 hours ticket for public transport for 110 CZK (4,5 dollars). It's cheaper, but allmost all museums, zoo etc... cost about 200 CZK. With Kracow card you can go to lot of museums without paying.
Reply
I will join tourist Krakow Card join World Youth Day for come hotel another from place is Katowich airport on Poland at where You give card tourist on send friends Padre Simon Yong at Church SFX,Petaling jaya malaysia to need register WYD krakow 2016 will free card allow meals,airport,Hotel,shop pay for meet me?
Reply
how can l purchase the Krakow's Tourist Card before my arrival to poland,maybe online or via an agent in my country??
Reply
In case your hotel is central and coming from Katowich airport, then no need for the public transport, onless it will rain the whole time and will take some transport to have a rain-break, and be able to relax a bit...but then how much can you see through a window when rain is pouring down ?
Reply
"Prices for a two or three-day card come in at a very reasonable 45 and 65 zlotys respectively"
Reply
How much are the cards and how many days can you get them for and list of sights you can use it in?
Reply
I think the better bet is to buy a one, two or three day tram and bus ticket from between 10 to 25 pln. You can buy these at main stops or kiosks. The machines have an English language version.Don't forget to endorse the ticket in the machine the first time you use it on the bus or tram or you may face a fine. Krakows transport system is excellent and current traffic conditions are very heavy.
Reply
I found the tourist card very good value for money - as long as you are interested in serious sightseeing. I think you need to visit lots of the sights to make this worthwhile. Also would hesitate to buy a card on a Monday as many of the museums are closed.
Reply