The Mighty Philharmonic Hall
Cracow has had a proud history of classical music, with a symphonic orchestra playing concerts in the city from as early as 1909 until the outbreak of World War II. During the war, the General Government Philharmonic was composed of Polish musicians and conducted by Germans, and the orchestra even became known as one of the best in Europe, as well as being a haven for musicians who could otherwise have faced concentration camps and death. After the war, the Cracow Philharmonic was established in February 1945 as the first one in Poland, and used their current building, a former Catholic House built in 1931 at ul. Zwierzyniecka 1, as the philharmonic hall from that time. It received its patronship in 1962, changing its formal name to the Karol Szymanowski Philharmonic.

Today, the philharmonic's season lasts from mid-September until mid-June, with concerts being performed several times a month. In addition, the hall itself hosts frequent performances by visiting orchestras and music groups, as well as a load of special events throughout the year. Be sure to frequently check out events calendar for the latest concert listings.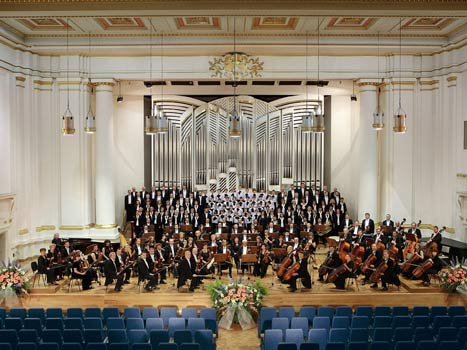 Comments
Freebookers from Poland Reply Nov 3rd, 2011
Hello M Don Frampton, we will be happy to help you to organize your stay in Cracow in next year. This is our email address: book@freebookers.com, when you will send us more details, we will get back to you with all information.
brenda from Netherlands Reply Oct 31st, 2011
I would like to book a concert at the Philiamornic concert hall in Krakow but cannot find any place to do that. WOuld be useful if you published answers on the comments we send so that we dont waste time sending you a message every time we need a question answered.
M Don Frampton from United Kingdom Reply Sep 10th, 2011
I would like to bring a group of about 20 music lovers to Krakow in April 2012 and would like to know concert details-a Programme. plus hotel info for stay of about 3 nights
M.Phillips from United States Reply Jul 20th, 2011
How do you get schedule and book tickets for Nov. 10 or 11 or 12? Thanks
michael Hildebrand from Netherlands Reply Jul 6th, 2011
what is the program for october 2011?
James from United States Reply Jun 30th, 2009
The Philharmonic Orchestra is on its annual holiday late june through july. But look out for the Music in Old Krakow Festival in August....
lisa mayer from South Africa Reply Nov 26th, 2008
I am looking for the programme for the period 22 - 27 June 2009. Can you assist me?
Inger Johanne Adachi from Norway Reply Oct 20th, 2008
I am not able to find Crakow Philharmonic´s scedule for 2008, only for last year. As we are going to stay in Crakow on the nigths of Nov. 12-14,I would like to know if there is any chance to listen to your eminent orchestra,and if so, how to order tickets. Yours sincerely Inger Johanne Adachi