Krakow Parking Zones
Krakow Parking and Traffic. We'll save you money on tickets... Buy us a beer!
Getting around Krakow by car can be frustrating. Some signs have more writing on them then a Mickiewicz novel. You may be driving along, minding the speed limit and being very cautious when all of a sudden - wham! Ticket! For what? Entering the wrong zone...
Many a newcomer to Krakow falls prey to the complex system of traffic zones around here. You can drive on this street but not that one, unless it's a full moon - well, maybe it's not that complex... But no matter how you slice it, for the Krakow rookie (and even for us regulars) confusion is a way of life, when it comes to driving or parking in the city center.
No worries! As always, we've got the answers. Below you'll find a quick rundown of where to drive and where to park in Krakow. Now, actually finding a spot - that's a different story altogether. Happy hunting!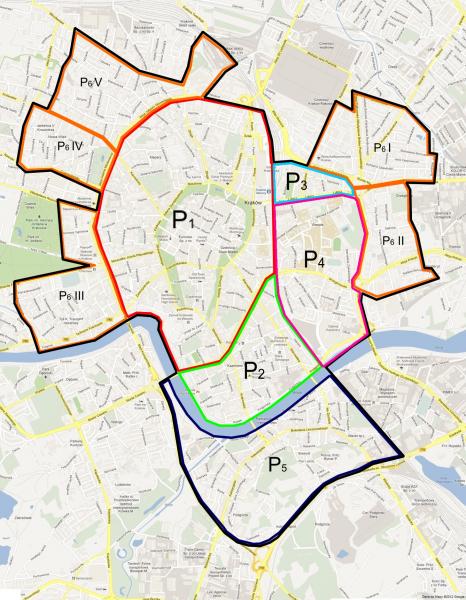 Zone A
Pedestrian and Bicycle traffic only
Zone B
Residential zone: Pedestrian right of way. Max speed limit = 20 km/h. Parking permitted only in specially marked areas.
Zone C
Limited parking zone: Maximum parking time = 2 hours. Monday through Saturday, 10 AM - 6 PM, parking card required. New automated parking coupon machines have been installed in many locations. Be sure to look carefully as some are obscured by construction, trees or parked cars. Parking cards also are available from one of the many street kiosks, Post Offices, City Hall or directly from a parking attendant. Price = app. 3 PLN / hr, but may vary by location.
Can't read something? No problem - check out our interactive zoomable map. That should help you find what you're looking for. Still need more? Get your hands on a printed map once in town. Your best bet is to go to the info point on ul Jana 4. There you'll find a handy (and free!) map of central Krakow.
Read all about 2014 changes in the parking zone here
Comments
I would agree on underground parking if didn't have a ski box on... Where to find a good/any place to park with 2,40 m high car?
Reply
I'm visiting Cracow from time to time and I've been having many problems with finding a safe place to park in Cracow near the centre. Finally I've found a great underground parking next to the Wawel Castle. Great location, 600 park spaces and it's safe. 5 zł-hour, 60 zł-day. I recommend it to everyone!
Reply
we are going to drop our car in krakow and fly to Spain for 2 weeks. Which not expensive and close to Krakow airport parking can you suggest?
Reply
Staying a week neear the University (main square). Any idea which guarded carpark I can use ?
Reply
we are staying in Slakowska, Krakow for a wekk next May. Any ideas where I can park my car for a week?
Reply
wonder where the closest safe overnight parking is when staying at hotel Regent in Kaziemirz (Bozego Ciala)
Reply
Parking on Plac Szczepanski is now CLOSED - apparently this square will be turned over to pedestrian use, maybe with some cafes, or an open concert area in due course. One less place to park in Krakow, and there are more and more cars! Why has no-one thought of underground parking in this place?
Reply
Parking on Plac Szczepanski is realy pretty expensive. It's OK for a day (90 LN, or about 16 GBP) but if you are planning to stay for a few days, i suggest you park in the carpark on ulica Karmelicka (or somewhere that's just a few hundred metres away from the Market Square). Over the few days, you'll save enough to pay for al your meals, pretty much! Generally, parking is safe, especially for UK cars, which are right hand drive and not likely to be stolen! Good page of information overall, hope my info helps! Cheers, Martin.
Reply