Reader-Chosen Best Places of 2009!
Our annual list of the Best Places is back. After Ten Best Places of 2006 turned out to be a hit, we have kept finding the city's top quality places to eat, sleep, drink, shop and discover culture. Be sure to check out Best Places 2007 and Best Places 2008 for past winners.
In 2009, we've picked the 5 Best Places from each category above. Each winner has received a plaque and sticker to display in their establishment, meaning that when you see the Cracow Life circle, you'll know to expect the best.
Some of these venues have satisfied their visitors year after year, while some newcomers are making their marks.
Be sure to check out Cracow-Life.com throughout 2009 to continue giving us your reviews on the best (and worst!) in the city.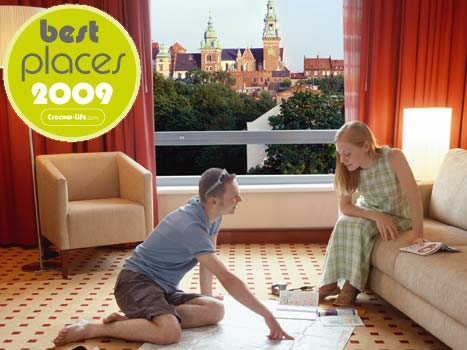 Above: Inside a room at Radisson Blu, one of the winners for Best Places 2009.

Best Places to Eat
Aperitif Restaurant
Dynia Resto Bar
Al Dente!
Nostalgia
Horai
Best Places to Sleep
Cracow Hostel
Hotel Ester
Radisson Blu Hotel
RT Hotel Monopol
Hotel Rubinstein
Best Places to Drink
English Football Club
Club Pod Jaszczurami
Piekny Pies
Oldsmobil Pub
Paparazzi
Best Places to Shop
Creme de la Creme
Boruni
House of Albums
Inter Book
Galeria Krakowska
Best Places for Services
Jagiellonian Centre of Polish Language (UJ Centrum Jezyka)
Dental Travel Agency
University of Economics
Ambra Day Spa
Tips 3
Best Places for Culture
National Museum (Muzeum Narodowe)
Ethnographic Museum (Muzeum Etnograficzne)
Bunkier Sztuki
Manggha Museum
Teatr Laznia Nowa
Comments
Agata: It's at ul. Wislna 5/10 ... check the eat section or here http://www.cracow-life.com/eat/restaurants_details/825-Aqua_e_Vino
Reply
Sorry but where is Acquea y Vino restauracja??????
Reply
I was in those clubs, Paparazzi, English FC and I agree with wthis ranking. They deserve for the splendour
Reply
¯enuj¹ce. Poza Paparazzi w ¿adnym z miejsc wskazanych jako best place to drink, nie potrafi¹ robiæ koktajli!!!
Reply
Hmm, chyba siê wkrad³ ma³y chochlik w Pañstwa rankingu Best Places 2009, bo wydaje mi siê, ¿e dwa miejsca w kategorii Best Places to Sleep nie maj± ¿adnych opinii z 2009 roku? Trochê to dziwne, skoro ranking jest ustalany na podstawie opinii u¿ytkowników;-) Chyba ¿e co¶ przeoczy³em, w koñcu dawno ju¿ pierwsza m³odo¶æ przeminê³a, a z ni± sokoli wzrok ...:-)Pozdrawiam serdecznie!
Reply