Shops and shopping...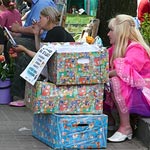 The Iron Curtain is considered a rather distant drape these days in Capitalist Kiev, and anyone expecting a shortage of haute couture or even household goods will be pleasantly surprised. Brands like Pierre Cardin and Hugo Boss are snapped up by enterprising buccaneers in futuristic shopping centres, whilst the cool kids know where to find their bargain Adidas and accessories. In some respects Kiev is still a little behind - your American Express Gold Card is no substitute for little green notes.
See on Map
Looking for something specific?
Top rated shopping in Kiev