More than Chicken Kiev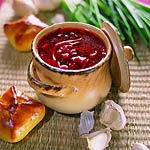 Whilst Ukrainian food may not have won world renown, Kiev can boast what many cities can't - it's got it's own signature dish, the famous Chicken Kiev. If you have trouble finding it on the menu though that's because it's of French origin! No matter, there are plenty of Ukrainian specialities to try whilst you're here such as borsch, solyanka and varenyky. Needless to say in a fast-paced capital like Kiev you don't have to stick to the local grub. High end restaurants across town serve up everything from shashlyks to sashimi.
See on Map
Looking for something specific?
Top rated restaurants in Kiev