Gdansk Restaurants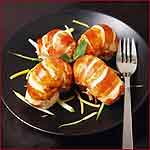 Professional foodies are not yet toasting Poland as a mecca of haute cuisine, but given the Poles' creative bent, a renaissance in Polish cooking may not be as far off as it sounds. In terms of sheer variety and quality, your options have already increased a hundred fold over the last few years, and whether it's classic Polish fare that you're after, some international spice, or simply a trusty old milk-bar where you can pick up a tasty cutlet for next to nothing, you won't be stuck in the Tri-City.
As far as our guide is concerned - it's very smple! Just choose from the drop-down list below to find the Gdansk restaurants that are suitable for you, based on location, type or popularity. Alternatively, you can always just go to our restaurants A-Z if you know the place you are looking for, or browse through our latest Gdansk restaurant reviews - this will give you a good idea of places that receive the most attention - both good and bad!
See on Map
Looking for something specific?
Top rated restaurants in Gdansk