Top Tips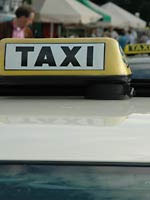 Here are a few things to remember during your time in Gdansk.
Strange people standing on the side of the road holding cardboard signs written "noclegi" or "pokoje" are not looking for a lift - they're offering cheap accommodation!
As with many cities, avoid changing your money in hotels and at the most obvious tourist sites - you're bound to find better deals if you look around a bit
Don't hail your taxis from the rank - ask someone to phone for one - it's 30 percent cheaper. Better still, walk or rent a bike.
Coin-operated phone boxes are almost non-existent. You'll need to buy a telephone card (karta telefoniczna) from a Post Office or kiosk.
Tipping is not expected. No self-respecting waiter will turn away a few extra zloty, but you won't get the customary grimace if you don't. You're not guaranteed a smile if you do either.
Take it easy - Poles are friendly and keen to help if you can't find your way around.
Unlike in the UK, pubs don't tend to close at 11. Most just about get going then.
Bring warm clothes and a hat. Even at the height of the summer, it can be pretty chilly on the coast, and rain can arrive without warning.
Poles are passionate about their food. Throw away your preconceptions about miserable eastern bloc stews, and prepare yourself for a great surprise.
Poland has adopted its own uniquely confusing symbols for differentiating public toilets for men and women - triangles and circles. Try and work that one out!
Above: Preserve your own life by visiting the coast of Poland
Below: Where's Danny DeVito when you need him?
Comments
"Mr born in Danzig",you were forced out because Poland invaded your hometown and threw and killed German speaking People out of Danzig.
Reply
Mr. F*U You were forced out because fascists invaded poland and had to be thrown out of country they destroyed completely. So shut up
Reply
"I was born in Danzig,but unfortunately my Family was forced out of our home and city. My parents never went back because it would have upset them to much to see Danzig occupied by strangers. My wife and I visited Danzig in May 2006 and found the inner City very beautiful, but some areas looked like ghettos. Also we were accosted by quiet a few people for money and a lot of taxi drivers overcharged us. Here is an advise for visitors to Danzig, before you take a Taxi,have a few drinks,because the driver will have had for sure some. Beware of pickpockets and bag snatchers."
Reply
Kocham Gdansk! I think this place is ideal for every one every time! I was only fortunate to visit this place in January, when it was 0 degrees, and the streets were paved with melting snow accompanied by very annoying dirt! However, you see Gdansks' true beauty walking along the river, beneath the archways and amidst the bardzo piekna pre, during and post war architecture! And i was constantly thinking how beautiful this place would be in the height of summer: and for such cheap flights with Ryanair this place is a revelation! One Polska can be very proud of: no wonder it produced Lech Walesa because you only need to visit this place to feel great!
Reply
your web site is very helpful and great info i can't wait for my trip now!!
Reply
Sounds like a great idea to us, Nicola. What exactly is the question here?
Reply
Question - in 40's plan trip with husband to Gdansk soon - what do you think?
Reply