Seaside Shenanigans
Every year more and more people discover the beauty and tranquility of Poland's beaches. Leba is certainly one of the most popular destinations and for good reason. The sand is soft and clean, the water is a bit warmer, and the town itself is exciting and full of hidden gems.
While you're in Leba there are a number of great places to stay, from top-notch guest houses, to a series of converted rail cars! Camping is also available for a great price, but watch out because you're often expected to provide your own toilet tissue!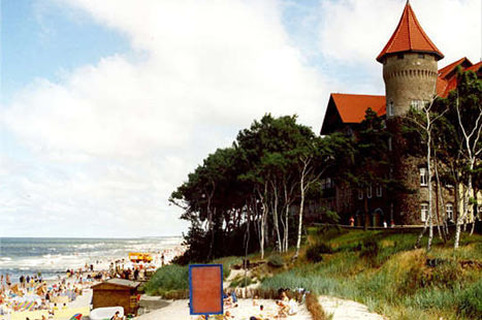 After finding a place to settle, take a stroll through the main town. There are a million small pizza places, but we suggest you pass them by in favor of the fish (or 'ryby') joints! If the service is ever slow, chances are your waiter is at the beach fishing for your dinner... it's that fresh!
No beach resort would be complete without the shady discos, tattoo parlors, and boardwalk games, so Leba has its fair share, but these cliches are mostly concentrated in the city centre and are easy to avoid. The beach immediately in front of Leba can also be a bit crowded and commercial, but again, the crowds are easily avoided. Walk one kilometre in either direction and you're practically alone!
Many people go to Leba to see the Polish Dunes at Slowinski National Park. Be aware that the park is actually a few kilometres outside Leba, but bike rentals or buses are on hand to make mince meat of the miles. However you get there, it is worth it 100 percent. The dunes are magnificent. Standing atop the mountains of sand, you can see the vast Baltic sea in one direction and a giant lake surrounded by forest in the other. Rarely can you say that you're standing in a place that exists nowhere else on earth.
Finally, Leba is an awesome place to watch the sunset over the ocean. If you've never seen this before, please treat yourself to this experience. Just walk about one or two kilometres west of Leba on the beach. You'll be almost completely alone for this spectacle, and after the sun sinks into the sea, you can just walk back along the beach and eventually come back into town. Simply incredible.
Comments
What are the potatoe on a stick curly things called Mr Fritke or something please help
Reply
Having stayed in Leba this year (2010), I would recommend it. I was lucky in that the weather was hot and sunny and the beaches, which extend for miles in each direction are fantastic. Definitely worth visiting is the nearby Slowinski National Park which you can walk or cycle too and where there are enormous sand dunes.
Reply
What ocean? Baltic is a sea!
Reply
THE LOOK OF THE WEBSITES AND WHAT I HAVE HEARD. I think I would love to come there and enjoy the lifestyle and culture of Danzig. The only place I have been was Warsaw and Leba and I am happy to have the opportunity to go to Leba and again soon. We will do a Concert there. Hope one day I will do a concert in Danzig. Love you Poland from American Singer James Smith www.jamessmith.de
Reply
This page doesn't do Leba justice. The sand dunes are incredible and a great daytrip from Gdansk--go there. You can swim in the Baltic on a virtually deserted beach while in Sopot there's nowhere to even lay a towel down. You can tumble down enormous dunes, play frisbee, take some great pictures. The National Park is not difficult to get to. I recommend renting bikes. Pack a picnic, get on the train and go. You'll be glad you did.
Reply