Heineken Opener Festival 2011
Poland's premier concert event (and now one of the biggest and best in Europe) will take place from 30th June to 3rd July at the Gdynia-Kosokowo Airfield, with a free bus service shuttling punters every half hour from the main train station. Tickets are a snip at 370 zloty for four days, 310 zloty for three days, or 165 for a one-dayer. Tickets routine sell out so get yours now at the Opener Festival official website www.opener.pl
See you there!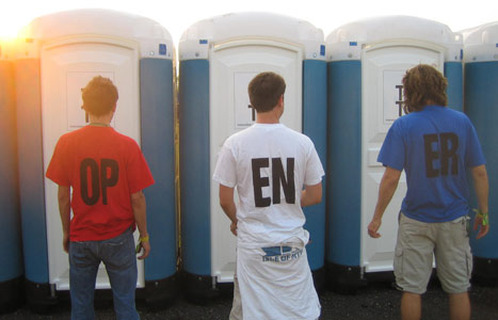 2011 Heineken Opener Festival lineup:
Abraham Inc.
Adre'n'Alin
Ailo In Head
Asi Mina
Baaba Kulka
Ballady i Romanse
Big Boi
Bipolar Bears
British Sea Power
Brodka
Bueno Bros
Caribou
Catz 'N Dogz
Chapel Club
Chromeo
Club Collab
Coldplay
Contemporary Noise Sextet
Crystal Fighters
Cuba de Zoo
Cut Copy
D4D
Daktari
Daniel Drumz
Deadmau5
Eltron John
Enej
Envee
Fat Freddy's Drop
Foals
Fonovel
Futuristen
Gooral
Grabek
Harper
Hurts
Igor Boxx
James Blake
Janusz Prusinowski Trio
Jazzpospolita
Junkie Punks
Karbido
Karolina Cicha
Kate Nash
Kim Nowak
Last Robots
Lody
M.I.A.
Małe Instrumenty
Marcelina
Mentalcut
Mr.Lex & Novika
My Head Is Dubby
Neony
Nerwowe Wakacje
New New
Niechęć
Paolo Nutini
Paristetris
Peter J. Birch
PFK Kompany
Plazmatikon
Pogodno
Primus
Prince
Pulp
Pustki
R.U.T.A.
Rebeka
Revlovers
Sedativa feat. Dawid Portasz
Simian Mobile Disco (live)
Snowman
Spięty
Spox
The Asteroids Galaxy Tour
The Black Tapes
The National
The Phantoms
The Strokes
The Twilight Singers
The Wombats
These New Puritans
Tides From Nebula
Tres B.
Twilite
Two Door Cinema Club
Vavamuffin
Wilson Square
Wojtek Mazolewski Quintet
Woody Alien
Youssou N'Dour

Comments
Just spotted PRINCE too - what's he up to these days?
Reply
Incredible lineup - The National, Coldplay and Pulp. Gotta go!
Reply