Language Schools
If you plan on taking lessons, these are generally available either as part of a class, or privately. Prices vary dramatically, but expect to pay around 20 zl an hour as part of a group, and about 50 zl per hour for individual tuition.
There are plenty of options to choose from in Gdansk, and in today's climate there is an ever-growing impetus for Poles to learn English - in the olden days students were obliged to learn Russian (now one of the least popular options for Poles, needless to say) whilst the language of the capitalist crew was firmly off the curriculum. Look out for good deals from the schools, particularly as the summer draws closer and competition to fill remaining vacancies increases.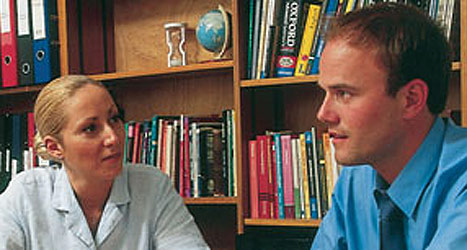 Gdansk
Akademia Jezyka Polskiego (Academy of Polish Language)
Ul. Lendziona 17/4a
Quality teaching materials support the use of what is known as 'the communicative teaching method', which focuses on teaching students how to deal with everyday situations. Grammar is reserved for when you most need it! Online courses are also available. Tel: +48 (58) 7365582
Mob: +48 (0) 509087371
www.ajp.gdansk.pl
Akces Benefit
Jaskowa Dolina 9/6
Akces-Benefit is an established school with branches across Poland. They specialize in teaching English by the popular Callan Method.
tel. +48 (58) 3448499
www.akces-benefit.pl

Bell
Targ Drzewny 3/7
Bell is an international school that teaches English at all levels, from youngsters to businessmen. They can also arrange courses in England if you want to plunge yourself into the thick of things.
tel. +48 (58) 3084777
www.bellschools.pl

English Unlimited
ul. Podmlynska 10
English Unlimited won first prize for the Tri-City in Newsweek's ranking in 2004. They also offer courses in German.
tel. +48 (58) 3013373
www.eu.com.pl

Sopot

The Centre for Polish Studies
ul. Kraszewskiego 31
The Centre for Polish Studies is a marvellous place to begin or further your adventure into to the Polish language. It's located in an elegant pre-war villa and there are a host of different courses to choose from. Find out more on their helpful website.
tel. +48 (58) 5506859
mob. +48 (0) 601593217
www.learnpolish.edu.pl
centrum@learnpolish.edu.pl

Sopocka Szkola Jezyka Polskiego
al. Niepodleglosci 763
This private language school founded in 1990 is a good bet id you want to get to grips with the Polish language. They offer intimate courses for all levels, as well as specific courses for students wishing to study at a Polish University.
tel. +48 (58) 5503284
www.ssp.edu.pl

Agencja Jezykowa Lingtur
ul. Karlikowska 9/1
Inexpensive courses for beginners and advanced speakers of English. Small groups of between 4 and 6 people.
tel. +48 (58) 5513396
www.lingtur.webpark.pl

Stanley's School of Languages
al. Niepodleglosci 817
Stanley offers courses for small groups in French, German, English and Spanish, whilst for companies they can organize courses in the aforementioned languages + Dutch, Swedish and Russian. The school can also help in providing interpreters, as well as straightforward translations of texts.
tel. +48 (58) 5503030
www.stanleys.edu.pl

Gdynia

British School
ul. Swietojanska 34/3
British School is one of the three biggest in the country with outlets across Poland. It was founded in 1996, and they now offer courses in German, Russian, French, Spanish and Italian, as well as the language of Shakespeare.
tel. +48 (58) 6201820
www.britishschool.pl

Siesta
ul. 10 Lutego 11
C.H. Batory lok.48
Siesta offers one to one teaching as well as course for small groups. They specialize in English, German and Russian, but also offer lessons in Swedish, Spanish, French and Italian.
www.siesta.pl
Comments
Mario Rivera Reply Dec 21st, 2016
l am from Peru. l would like to learn the Russian language as soon as possible.
Anne from France Reply Sep 16th, 2015
My school is SITRAX école in Gdańsk!!! La langue polonaise est magnifique!!!!
Kai from United Kingdom Reply Nov 8th, 2011
The list seems a little sparse - there seem to be many schools in Gdansk which are missing from this site - ProfiLingua, ojp.edu.pl, Speak Up, and more.
Frank Zu from United States Reply Sep 12th, 2009
Private lessons can be given all around the tri-city By Molgosia Szeliska, info at polishlessons.pl Very good method and reasonable rates
Kasia from Canada Reply Mar 6th, 2009
I tried to contact a few schools about taking Polish classes and no school responded to my email. I just wanted to double check that the company was legitimate and receive further information. Can anyone recommend a school they they personally attended? Dziekuje Bardzo.
Mr. Frugal from Sweden Reply Aug 17th, 2008
The webpage about opportunties for learning the Polish language while in Poland was very good and helpful. I found the information useful and up to date. Please keep up the good work with your website. It has helped me a number of times on my trips to Gdansk. I would recommend the site to others. Especially for those who have English as a second or third language. (English is a confusing language indeed, Mr. T. The American version is a bothersome task for many more than me.) Tusind Tack. M.F.
Mr. T from United States Reply May 30th, 2008
Frank, i think you should learn english first if you can't read the useful information that answers your question exactly on this page...
Gdansk Life from Poland Reply Dec 29th, 2007
Come on guys, you can do this. Frank, we think the answer to your question is obvious. You shouldn't even need our help to find Polish language classes. Just go to Gdansk and read the plakats all over town. Not to mention the two schools in Sopot mentioned above--oh look, there's even web addresses for them! Robert, we don't offer Polish language courses, the language schools above do. Contact them to find the prices, which, like anything, will vary. Good luck boys. Criminy.
Frank Stover from United States Reply Dec 25th, 2007
1 out of a possible 5. Need additional information to answer this question: Is there someone (or company) in Gdansk able to teach the Polish language as a second language to an English speaker?
Robert Urbanek from United States Reply Aug 24th, 2007
Would you please give me the cost for a few weeks of your polish language courses plus room and board.