Die Anreise nach Danzig
Mit dem Flugzeug
Heutzutage ist es eine gute Idee mit dem Flugzeug nach Danzig zu reisen, da die Billigflieger von Wizzair den Danziger Flughafen direkt von Koeln, Dortmund und Hamburg-Luebeck anfliegen. LOT bringt Passagiere aus Frankfurt und Hamburg, waehrend Lufthansa von Muenchen nach Danzig fliegt. Denk dran zeitig zu buchen um die Spartarife nutzen zu koennen. Der Flughafen ist nach Lech Walesa, dem Helden der Solidaritaetsbewegung, benannt und ein Blick auf dessen Homepage lohnt sich. Fast jeden Tag kommen neue Flugverbindungen nach ganz Europa hinzu.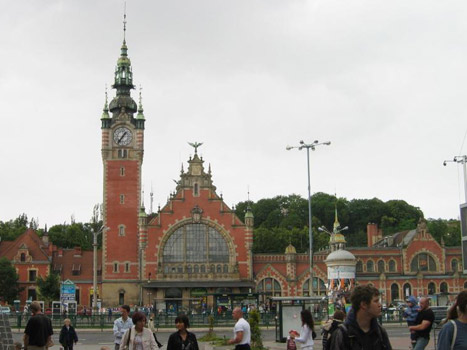 Mit dem Zug
Der Hauptbahnhof liegt nur 10 Fussminuten vom historischen Stadtzentrum entfernt. Falls du dich ein wenig benommen fuehlst nach der langen Zugfahrt (es sind immerhin 7 Stunden von Krakau), sei besonders vorsichtig und pass auf die schnell vor dem Bahnhof vorbeirasenden Autos auf. Am Besten du benutzt die Unterfuehrung! Von hier kannst du auch eine Strassenbahn nehmen, fuer den Bus musst du dagegen hinter den Hauptbahnhof gehen. Mit dem immer besser werdenden Angebot der Billigflieger, bist du wohl eher versucht einfach einen Flug von Warschau zu buchen. Falls du aber doch Lust auf Zugfahren hast (und warum eigentlich auch nicht?), gibt es auf den Seiten der Polnischen Eisenbahn (PKP) die Abfahrts- und Ankunftszeiten. Denk an die polnischen Schreibweisen der Staedte, wie zum Beispiel Warszawa und Krakow.

Mit dem Auto oder Bus
Zugegebenermassen macht Autofahren im neuen, erweiterten Europa immer mehr Spass, es gibt keine stoerenden Grenzkontrollen und der Autofahrer kann die Freiheit der Strasse geniessen. Aber Autofahren in Polen ist nicht so einfach, wie es scheint! Polen hat die hoechste Unfallrate in Europa, also fahr nur mit dem Auto, wenn du ein geuebter Fahrer bist. Ausserdem brauchst du die Gruene Versicherungskarte und vielleicht auch eine aktuelle Abgasuntersuchung. Eine andere, preiswerte Moeglichkeit ist die Anreise mit dem Bus. Die ueblichen Verdaechtigen Jordan und Orbis Busreisen bieten Reisen von grossen europaeischen Staedten wie Frankfurt, Amsterdam und Rom an.
Mit der Faehre
Danzig ist einer der historisch wichtigsten Haefen in Europa, die Anreise mit der Faehre also mehr als standesgemaess. Von Schweden kannst du zu guenstigen Preisen mit Polferries direkt zu Danzigs Neuem Hafen, welcher sich nur 6 km noerdlich der Innenstadt befindet, gelangen. Dann ist es nur noch ein Katzensprung zum Bahnhof des Neuen Hafens und auf geht's mit den lokalen Zuegen ins Stadtzentrum. Natuerlich gibt es auch die Moeglichkeit das letzte Stueck der Reise im Taxi zu bewaeltigen.
Comments
I want to go by bike from Travemünde to Danzig. Is it possible?
Reply
I need to get from Gdanks to Usedom, Heringsdorf in Oktober (around 17 October), is there a possibility by boat or ferry? The train connections seem to take very, very much time? Thank you for your replay, sincerely Irene Schaefer-Vischer
Reply